There's no season like seed season! Now is the perfect time to organize all you need for the season when everything starts to bloom.
But before you get your seeds ready or get to planting in your gardens (that usually doesn't happen until Mother's Day weekend in May), you have to prepare. To stay organized throughout the springtime, check out these 11 products for organizing your gardens—plus all the gardening accessories that come with them. As always, the prices listed may fluctuate over time.
11 Products for Organizing Gardening Accessories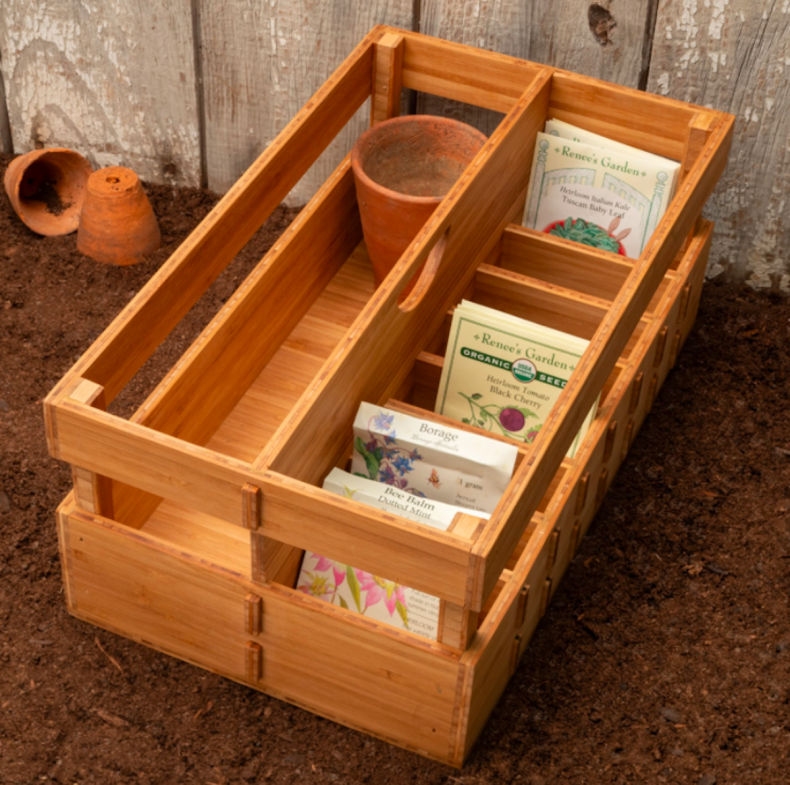 First thing's first—you gotta get your seeds in order! Whether you've been doing this for a while or you're a total newbie to #SeedSeason, chances are you've accumulated quite a few seed packets. Either way, the Garden Tool Tote and Seed Organizer will help you keep everything in order just in time for planting. Made of oiled bamboo and featuring a convenient handle, this organizer holds everything—planting tools and your seeds. It has eight separated seed slots to hold as many as 80 packets at once. That's a lot of seeds!
One GarrettWade.com reviewer wrote, "I think this is going to be very helpful for pre-sorting/planning and then on actual planting days. My only bad comment is that the handle hole is a little small. I will probably add some sort of strap so that it's easier to grab with gardening gloves."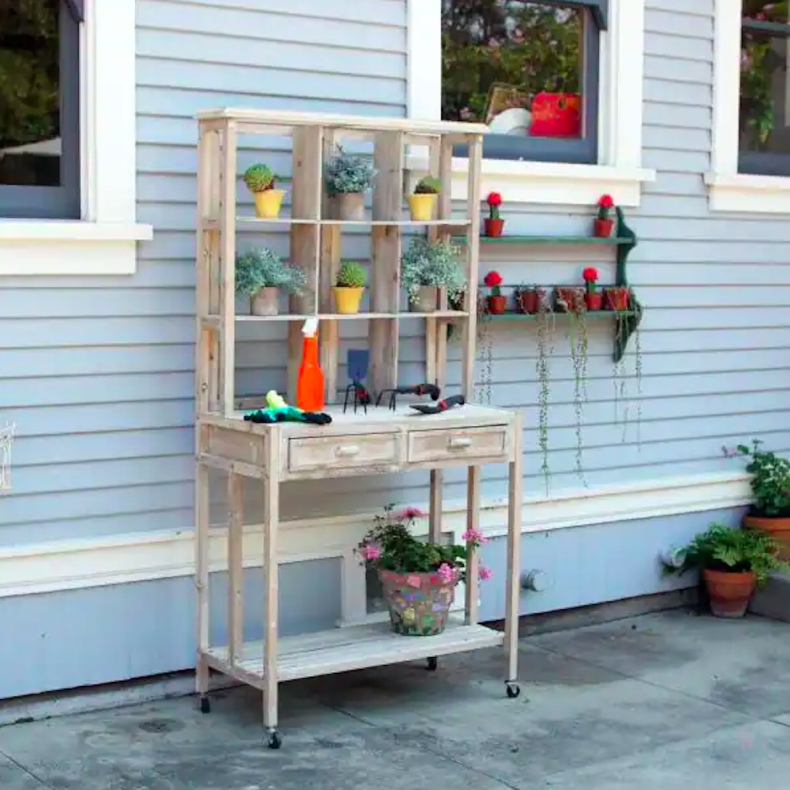 From showcasing your greenery to storing your various gardening tools, the 67-inch Tall Indoor/Outdoor Wooden Potting Hutch features the right number of shelves and drawers you'll need to make the most out of even the smallest of spaces. Made from wood, this unit is built for outdoor use but can be used indoors. It's functional with a classic rustic appearance featuring two drawers, three rows of usable shelving, and a bottom shelf that can accommodate all your tools and supplies like fertilizer, soil, and anything else that's too bulky to sit on the top shelves. Measuring 34 inches by 16 inches by 67 inches, it also conveniently includes a one-year manufacturer's warranty from your date of purchase.
One HomeDepot.com reviewer wrote, "I'm so in love with this potting hutch. If plants are your thing, then you will understand. This is beautiful and an amazing addition. The storage is the best."
Buy at Home Depot for $295.43.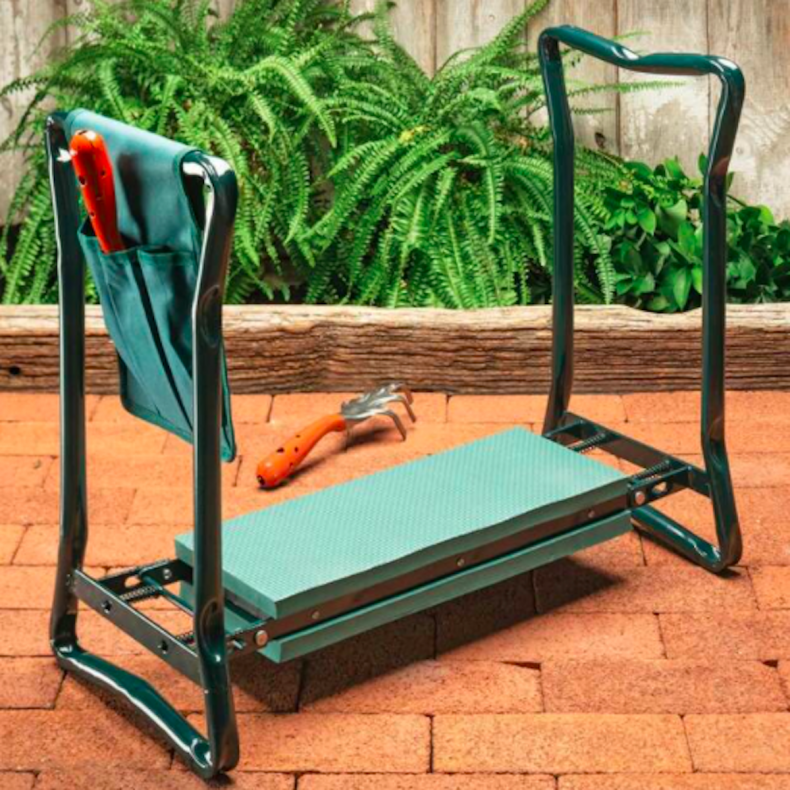 The benefits of the Portable Bench Kneeler from Garrett Wade are two-fold. Not only is it easy on the knees (which all amateur gardeners know is crucial!), but it also provides some organizational space so you can keep all your essentials stowed away while you're working. With an extra-wide, portable seat that's foldable to boot, the frame is all steel and comes with a nylon tool caddy with three pockets.
One GarrettWade.com reviewer wrote, "This is a very useful aid for anybody (like me) that hates to do kneeling jobs! It's well made—solid and stable—and can also serve as a handy bench seat."
Buy at Garrett Wade for $49.95.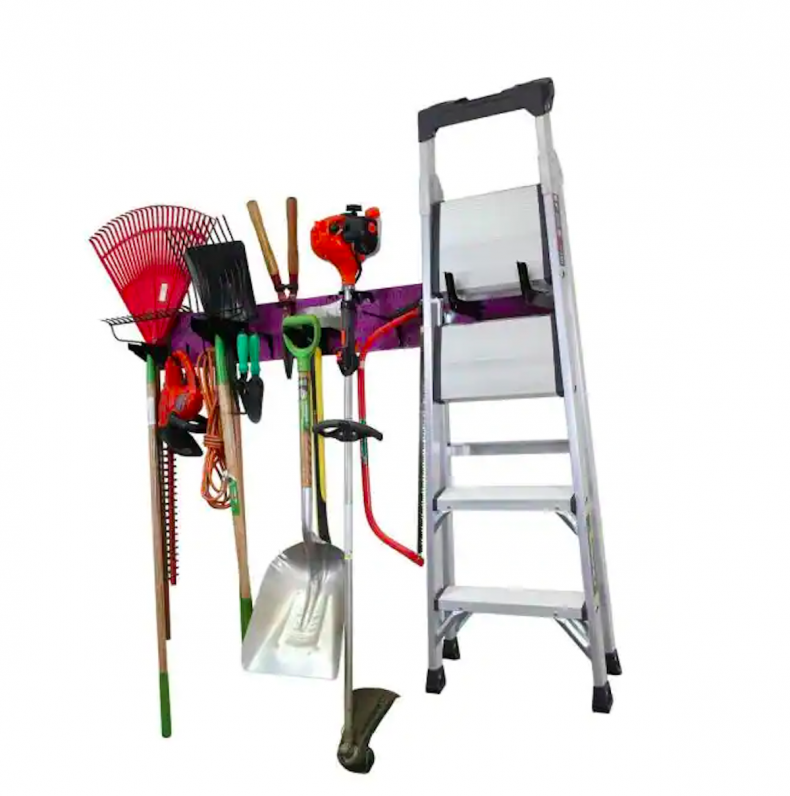 The Lawn and Garden Tool Organizer Rack ensures all your ducks are in a row. As in, everything has a place. It is easy to install and ideal for storing everything from ladders, rakes and brooms to trimmers and edgers. It features metal pegboards that don't warp or fray and last for decades. The Lawn and Garden Tool Organizer Rack also comes with hooks and brackets with adjustable stabilizing tabs for more control and stability when hanging up your supplies. It also includes mounting hardware, so you have everything you need to get organized.
One HomeDepot.com reviewer wrote, "This is a nice system. This mounts on 32″ space with anchors and screws included. This kit comes with a variety of mounts. Brackets for multiple tools and hooks to hang different items. It is easy to hang the hooks or move them to accommodate other tools."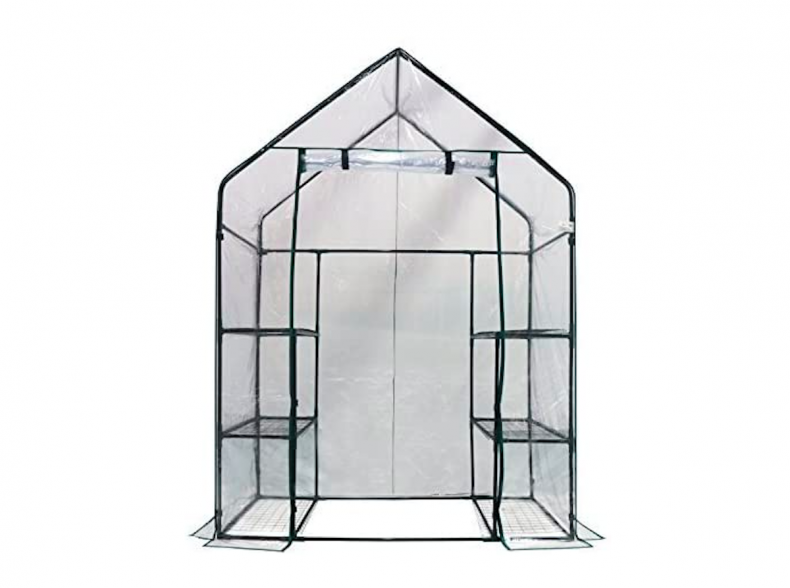 The Homewell Walk-in Greenhouse Kit is the perfect starter greenhouse for those of us who are ready to take our seedlings to the next level. Whether you're growing strawberries, blueberries, lettuce, or other produce, this greenhouse will allow you to organize your garden by type more efficiently. It's portable, protects plants and seedlings from the elements and can easily fit just about anywhere—balconies, decks, patios, lawns and even indoor spaces during the colder months. The greenhouse comes with four wire shelves—two on each side—that hold up to 15 pounds each.
One Amazon.com reviewer wrote, "I am so happy with this purchase and it was completely worth the money! It was easy to assemble after I got over my shock at all the parts (it goes quickly-don't worry), and the greenhouse is exactly as described: it's roomy, I can walk in without stooping, and it's fairly sturdy in my backyard, which gets pretty windy. I thought the shelving might be flimsy, but it holds a couple of heavy pots per shelf, and they seem sturdily in place."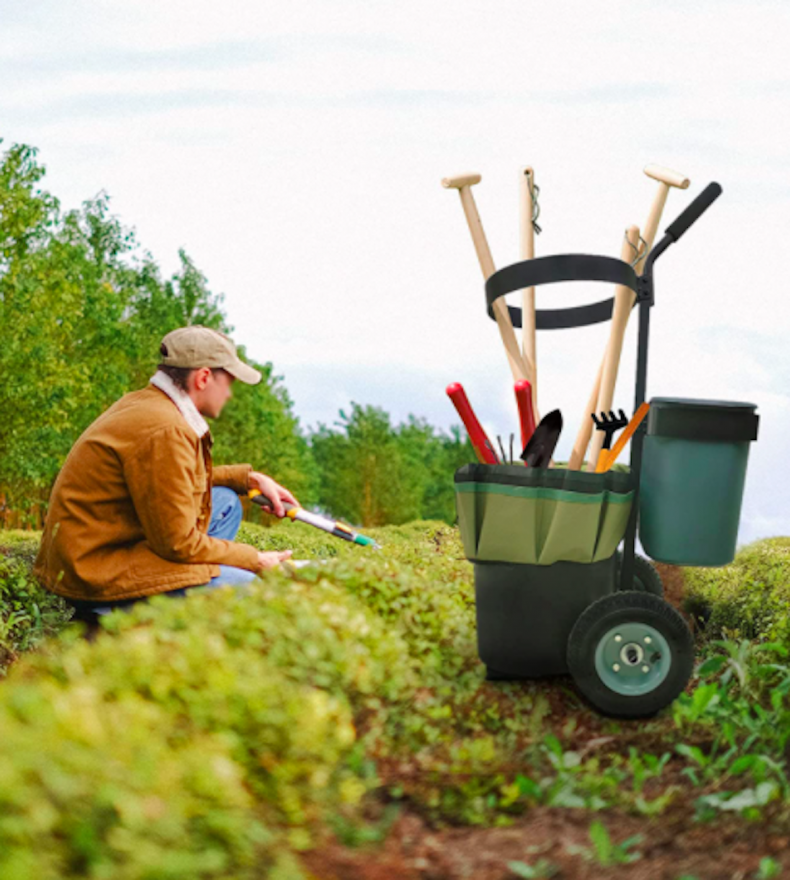 For bigger yards and garden spaces, quit lugging around your tools one by one. Instead, the Landrol Durable Steel Garden Hand Cart Trolley makes it easy to tote everything you need right with you. Made of stainless steel, the Garden Hand Cart includes a durable oxford bag with eight different pouches (for all your gardening tools), a standard 5-gallon bucket (for throwing weeds and dirt into) and a basket (for storing additional gardening supplies). It's basically everything you could need to garden—all in one simple, lightweight and easily maneuverable hand cart.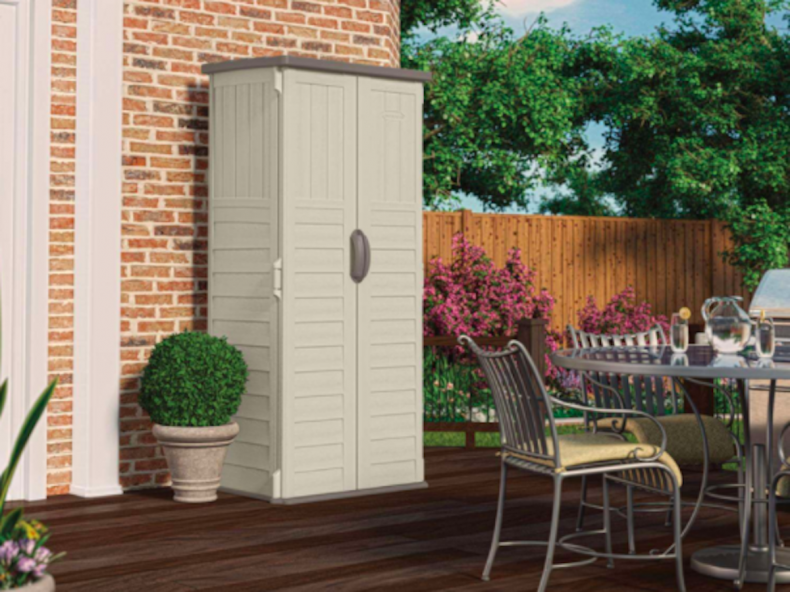 Got a small space but still need big storage? The Suncast Plastic Vertical Storage Shed with Floor Kit might just be your saving grace. Ideal for storing gardening and tool supplies in smaller spaces like patios, porches and balconies, you'll quickly find that this portable storage shed gets the job done thanks to its versatility. It can fit everything from long-handled tools to ladders as well as your gardening tool essentials. Plus, it features pad-lockable doors for ultimate security, and the interior can support the addition of up to four shelves for added organization.
One AceHardware.com reviewer wrote, "The price was right, and it was a good enough size for holding a few rakes, my kneeler and assorted fertilizers etc."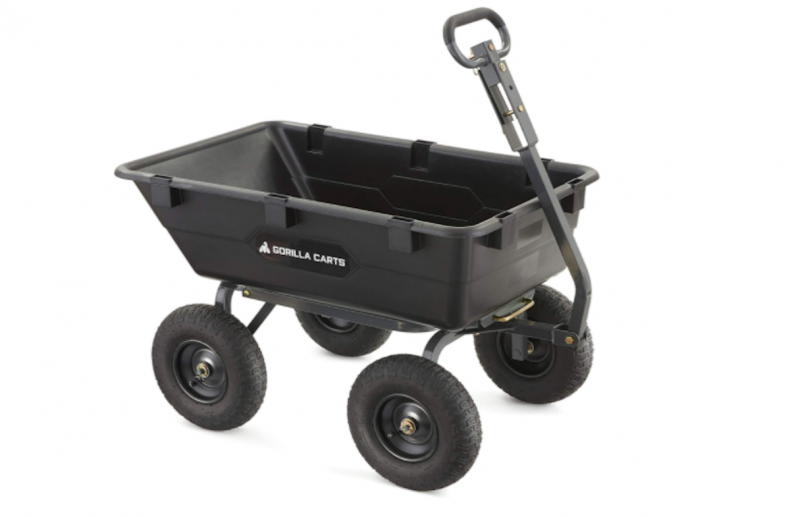 Every gardener needs a dump cart—or, you know, a wheel barrel. The Gorilla Carts Heavy-Duty Poly Yard Dump Cart has a 4.8-star rating and more than 8,800 reviews on Amazon.com, with most reviewers loving the quick-release dump feature. After all, it allows you to unload what's inside the wheel barrel quickly and conveniently—without even having to get your hands dirty! It also features improved maneuverability and a padded two-in-one heavy-duty handle that can either be pulled by hand or towed. And it can haul just about anything, given that it easily pulls up to 1,200 pounds.
One Amazon.com reviewer, "Decided on getting this model over the 600-lb capacity one and I couldn't be happier. I purchased this to do some landscaping work with crushed stone and saw the reviews on the lower capacity model being flimsy, so I purchased this one which has 1,200 lb capacity. I have moved 25 tons of crushed stone, maxing out the capacity each trip with no issues."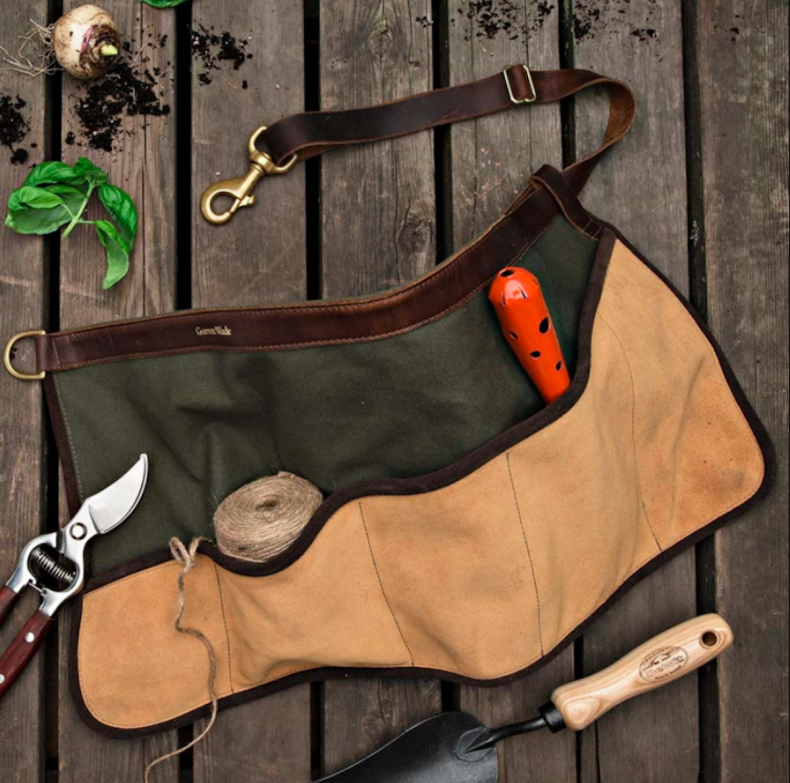 Keep your gardening tools organized right on your person! The Waist Level Gardening Apron from Garrett Wade is 12 inches long and 24 inches in width and is made of one-sixteenth-inch thick suede cowhide. Comfortable enough to wear while bustling about the garden, it also fits most body types with plenty of room to spare as the waist is adjustable anywhere from 35 to 48 inches. Also, the green backing of the apron is made with #10 Duck canvas—that's both military-grade and water-repellent, so you know it's well-made and will last many gardening seasons to come.
One GarrettWade.com reviewer wrote, "I've been looking for something to carry tools, seeds, gloves and more while gardening. I finally found it! This is perfect!"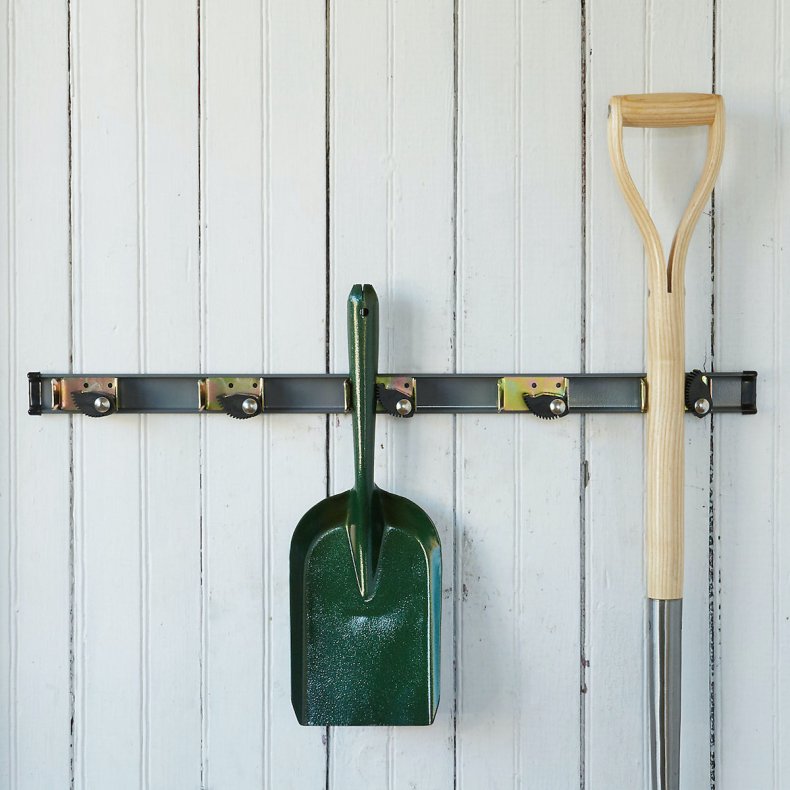 Never has there ever been a more chic tool rack than this one. The Universal Garden Tool Rack is a practical, convenient and aesthetically-pleasing way to store all your gardening must-haves. Heavy-duty and smart to look at, the Universal Garden Tool Rack can support up to 7 pounds, and up to 11 clips can be added to each adjustable rack (though it only comes with five; additional clips are sold separately). It also comes with rubber jammer clips, which more comfortably grip the handle of most tools and can be used either indoors or in a sheltered outdoor area to keep all your essentials close by.
Buy at ShopTerrain.com for $42.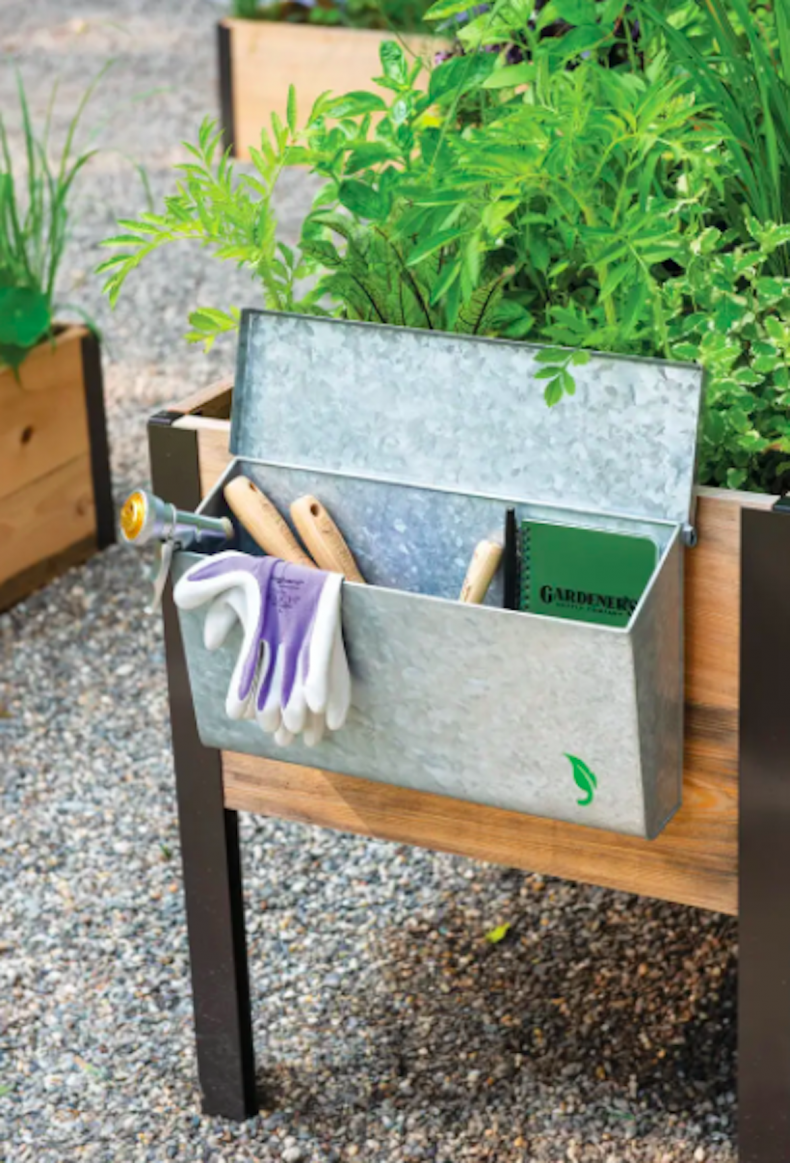 On-trend in all its farmhouse-friendly galvanized glory, the Galvanized Garden Tool Storage Box from Gardeners Supply Company quickly and conveniently clips onto the side of your raised garden beds or shed. Large enough to hold just about any gardening tool you may need on hand, waterproof and mountable, this oversized storage box measures 16.75 inches by 6.5 inches by 11.5 inches. Made of galvanized steel that's durable and aesthetically-pleasing, it keeps water from getting inside and is even rust-resistant.
One Gardeners.com reviewer wrote, "This is an amazing little galvanized box for my tools and quick access accessories needed in my gardening each day. Perfect size and very durable and it's a quick 10 minutes to hang on the garden planter box. I would purchase again for other planters I add to my patio garden… It's a must!"
Buy at Gardeners Supply Company for $34.95.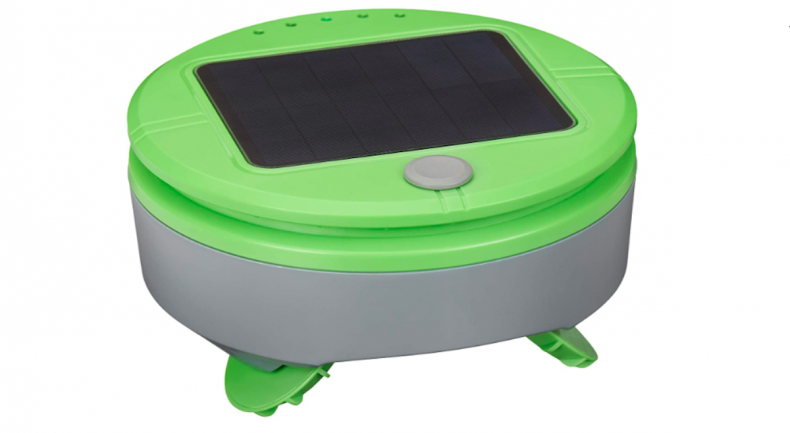 What if we told you there was basically a wireless robot vacuum—but for the weeds in your garden? Pretty freakin' cool, right? The Tertill Garden Weeding Robot is basically that, for lack of a better analogy. To work the Tertill, place it in any garden with a 4-inch (or higher) border. There must be about a foot between plants or rows, and the ground should be flat and smooth for Tertill to work its magic. Then, press the button. This weeding robot can maintain gardens up to 200 square feet—once it learns the lay of the land. It uses a specific technology that analyzes a vegetation's height to assess if it's a weed or plant. If the vegetation is tall enough to touch its front sensors, Tertill will assume it's a plant and leave it alone. But if it easily passes underneath, Tertill will cut it. Now, how cool is that? This is some Jetsons' stuff!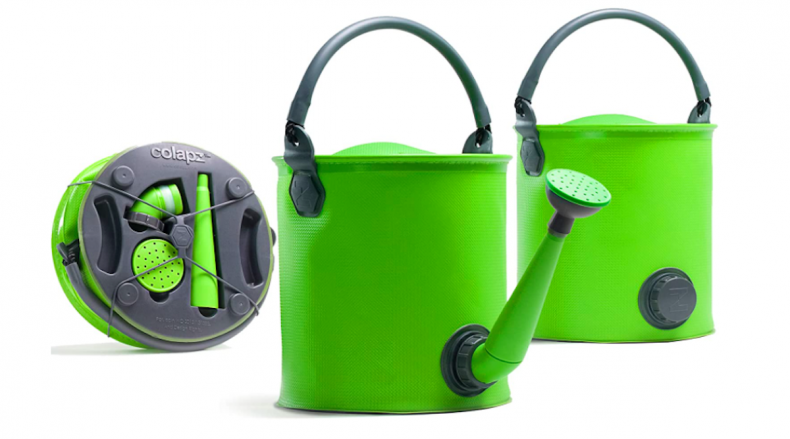 Genius! The Colapz 1.5 Gallon Collapsible Garden Watering Can is a can and a bucket in collapsible hose-like form. It saves you crucial space in your garden or yard, but the different attachments also conveniently fit inside the base, so you never have to worry about losing them. Though it folds down to a third of its size and has an overall compact and even portable design, this incomparable watering doesn't sacrifice on capacity. In fact, as a bucket, it can fit up to 2 gallons of water inside and as a watering can, 1.5 gallons. It's also weather-proof, protected from UV rays and frost, so you know it's durable and will last a long time.
Newsweek may earn a commission from links on this page, but we only recommend products we back. We participate in various affiliate marketing programs, which means we may get paid commissions on editorially chosen products purchased through our links to retailer sites.