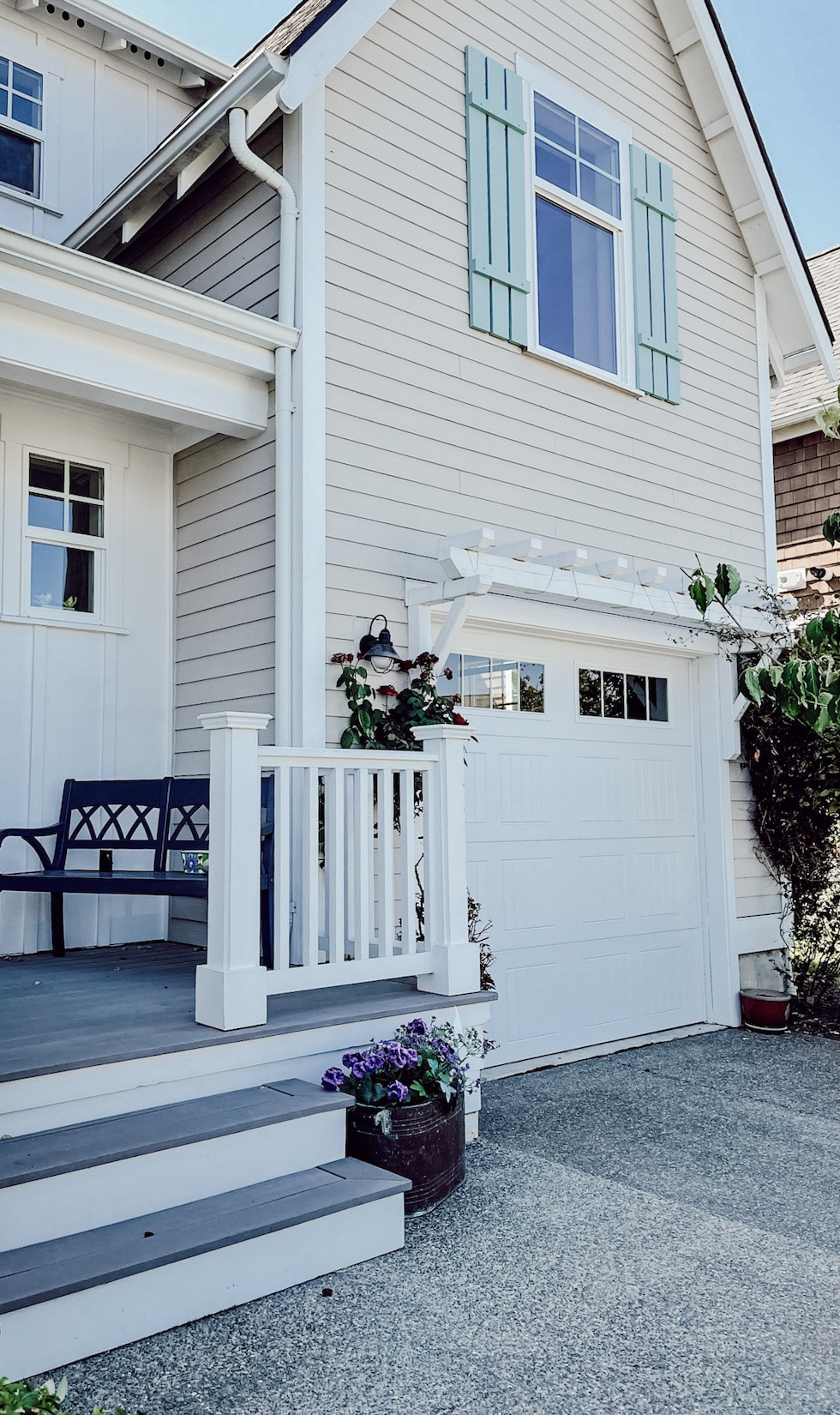 I know we've lived here in our "beach house" (we call it our new beach house but we only have one house!) for quite a few months now, but I just realized I haven't given an "official beach house before photos" tour!
You've seen bits and pieces of most of our house (see all new house posts here) but I found some other photos of spaces I don't think I've shared before (including more upstairs photos!).
Most of these are beach house before photos because we took them before we moved in.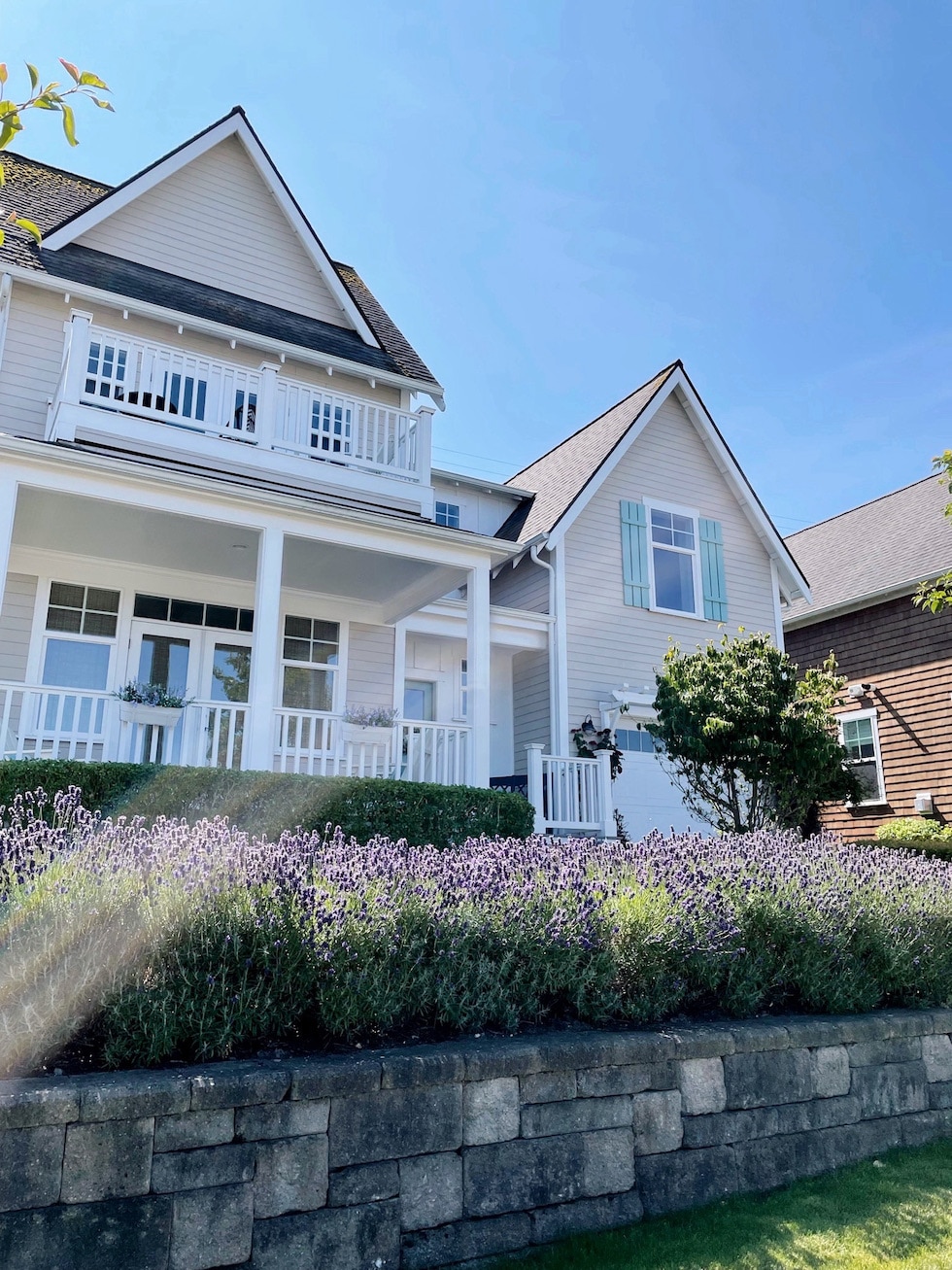 We bought this house furnished so you might see some furniture you don't recognize (some of which we gave to our son and future son-in-law). Also excuse the plastic on carpet which was still there protecting the carpet from the open house.
I think our beach house before photos will give you a sense of the house as a whole as well as how spaces connect. It will be fun to look back on all of "the before photos" in one place once we begin our remodeling!
Note that I am calling these beach house before photos, not because they are ugly rooms that necessarily needed to be changed, but because they just will over time!
One thing we loved about this house right away is that it was really clean, well-taken care of and already charming. It is very livable and we LOVE living here already!
But of course, I wouldn't be me if I didn't have plans to make it our own. And some of those projects will happen right away because we are working on plans to add a small main floor primary suite off the back of the house for my parents. While we are doing that, it makes sense to remodel our kitchen (read my post about it HERE) and put in new hardwood flooring throughout. Plus I know we'll think of a bunch of other fun things as we live here and get to know the house. 🙂
If you missed it I recently did a post about 6 months in our new beach house, the backstory of how we got it and why it means so much so us. Read that post HERE.
Enjoy "before" tour below!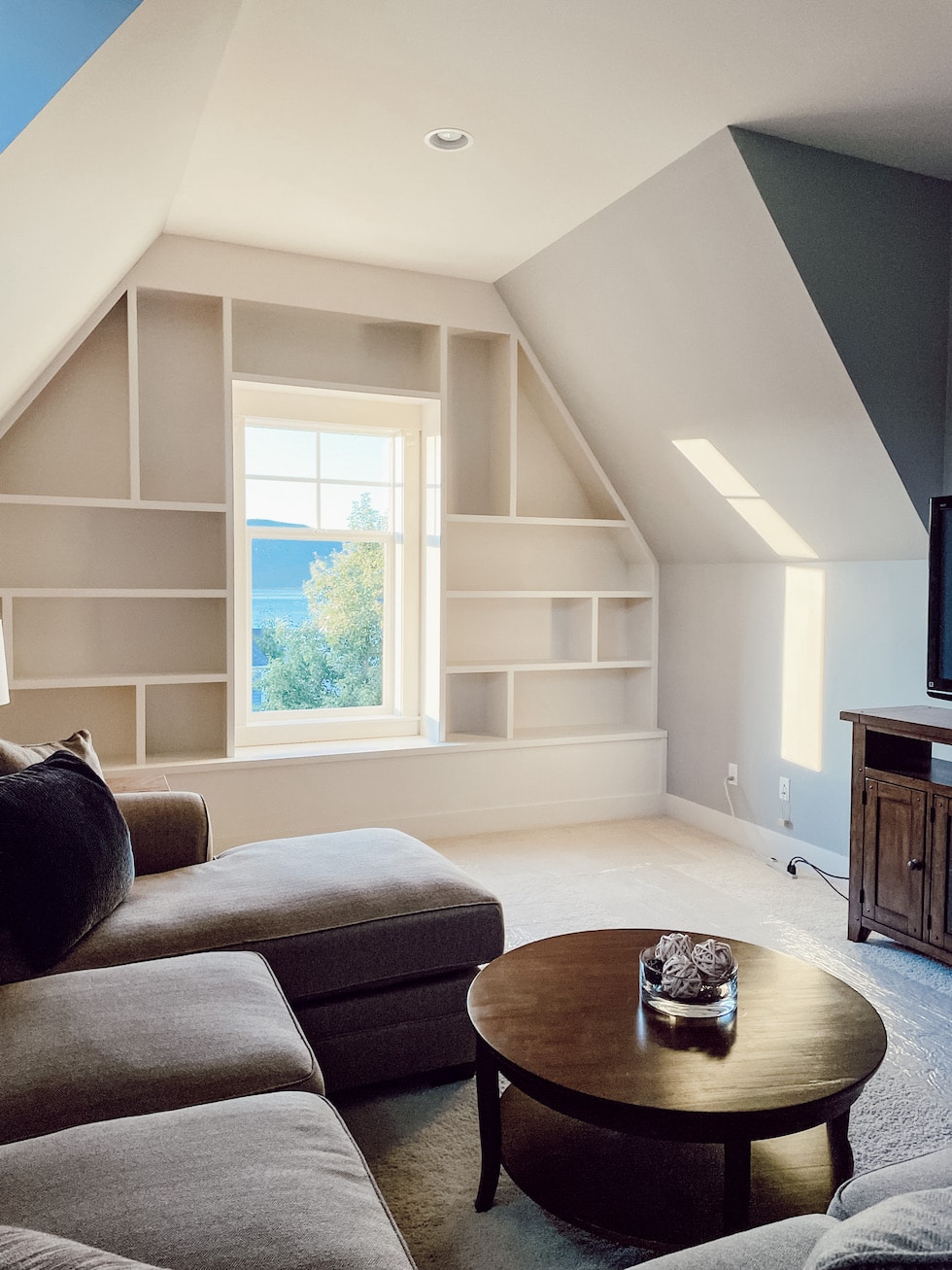 The first room you come to as you go up the stairs is a space that really sold us on the house! The view, the built-ins, the ceiling, so much to work with already!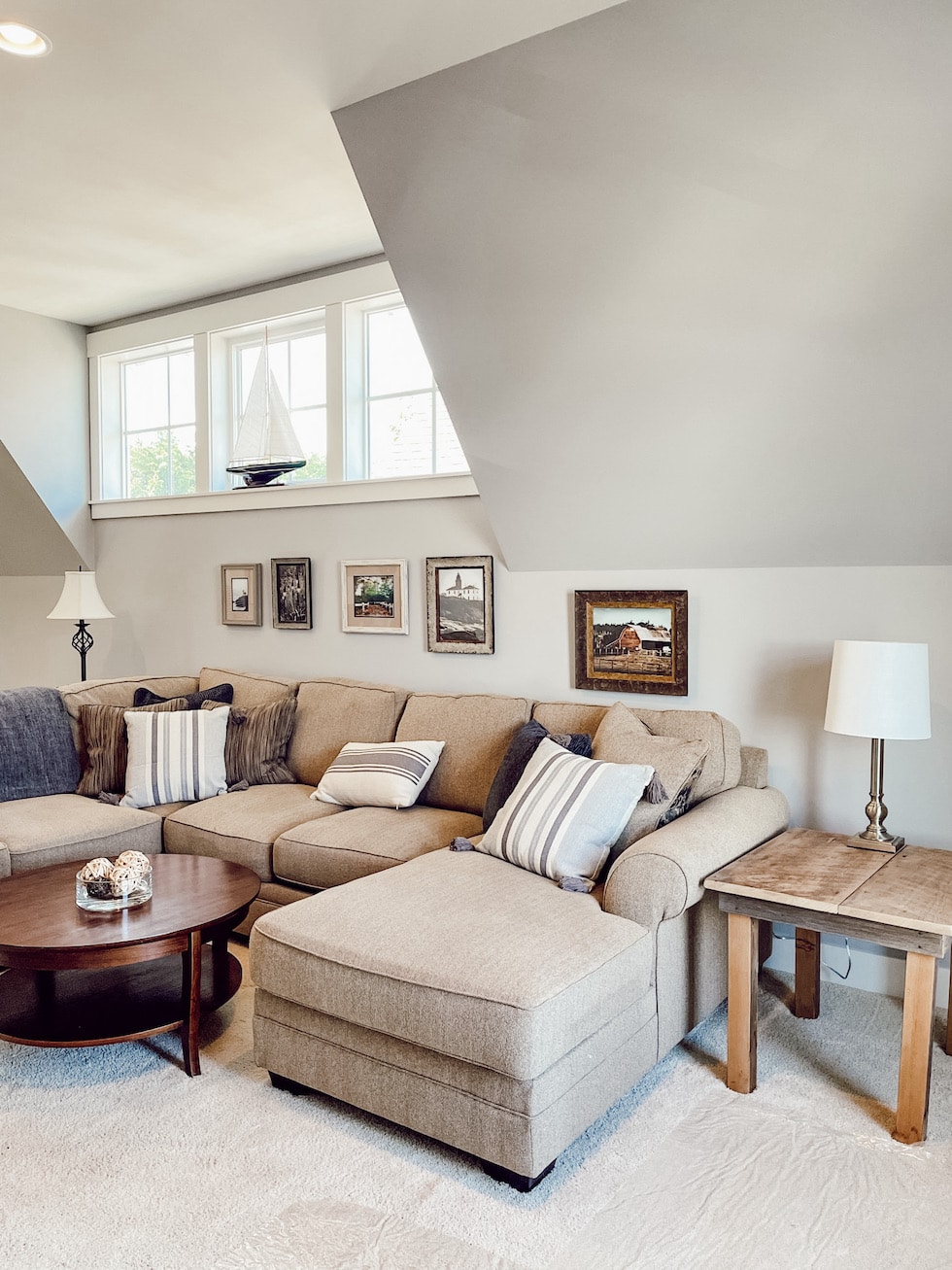 It's really hard to capture in a photo how wonderful this room feels to be in it, but I knew the moment I saw the shape of the room that it would be a very special space.
We'll be adding hardwood flooring and a lot of special touches to make it our own in time, but having the built ins made it instantly feel like home for all of my books! The dogs love the window seat, too.
When you leave that room, you can either go downstairs to the entry/living room/kitchen or head up to the primary suite, laundry closet, and down the hall to a guest bedroom/bathroom. Of course, we took the plastic off the carpet and can't wait to see it with new hardwoods and a runner!
I have some other plans for these spaces, which I will share soon. I love the stairwell, it has a lot of personality and the opportunity to make it our own!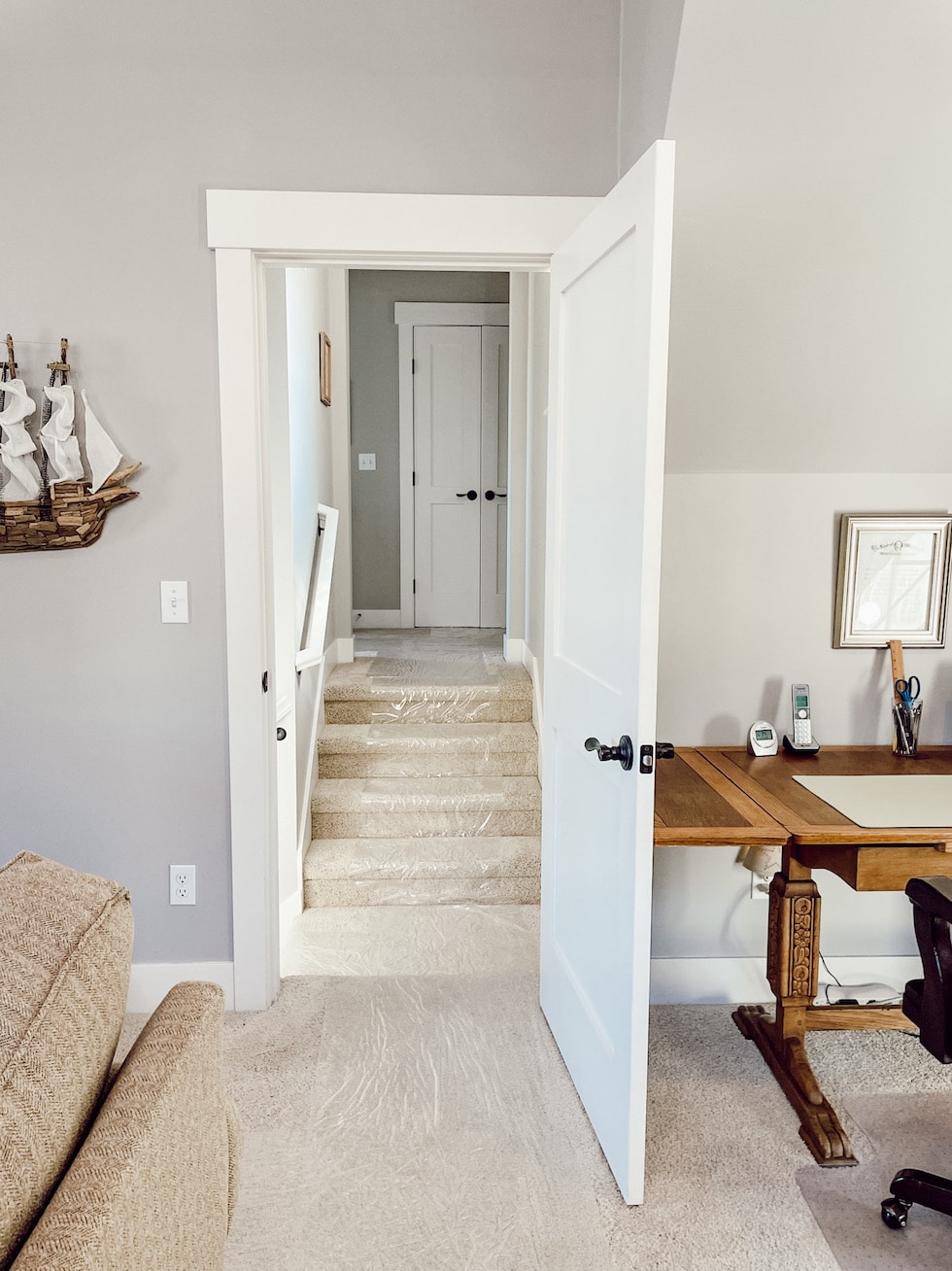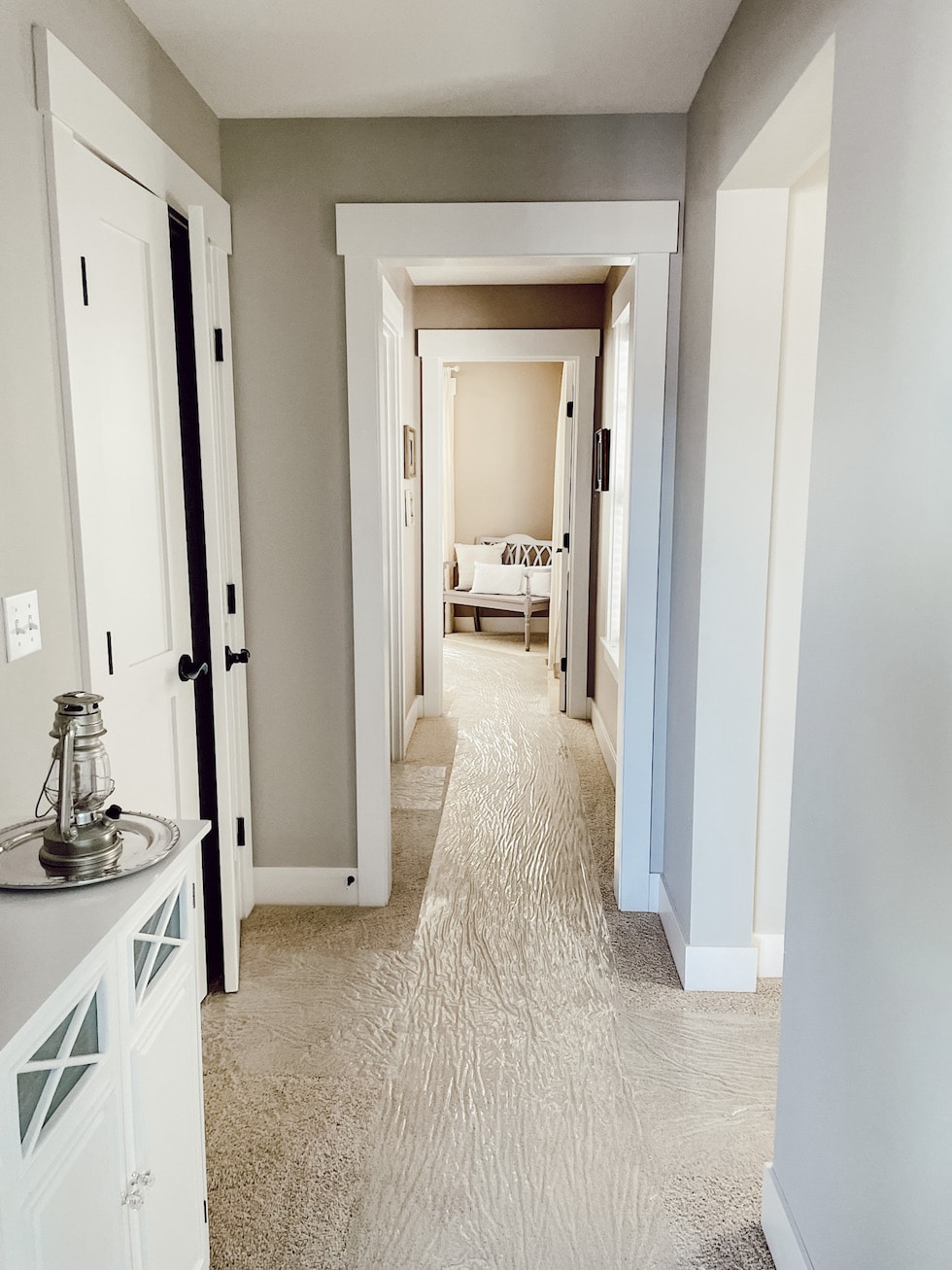 At the top of the second set of stairs is our little laundry closet. Yep! Laundry closet! We don't have a laundry room in this house. We will have a second washer and dryer downstairs for my parents, but with only two of us in the house our little laundry closet serves us just fine.
I love this little hallway and think it is going to be extra nice with hardwoods and new light fixtures! I haven't decided what I'll do with paint colors yet, or if I'll add wood paneling to the walls and ceilings in time.
This hallway leads to the guest room and bathroom. There are currently only two bedrooms, plus that bonus room I just showed you. It's a compact house but feels really cozy and comfortable.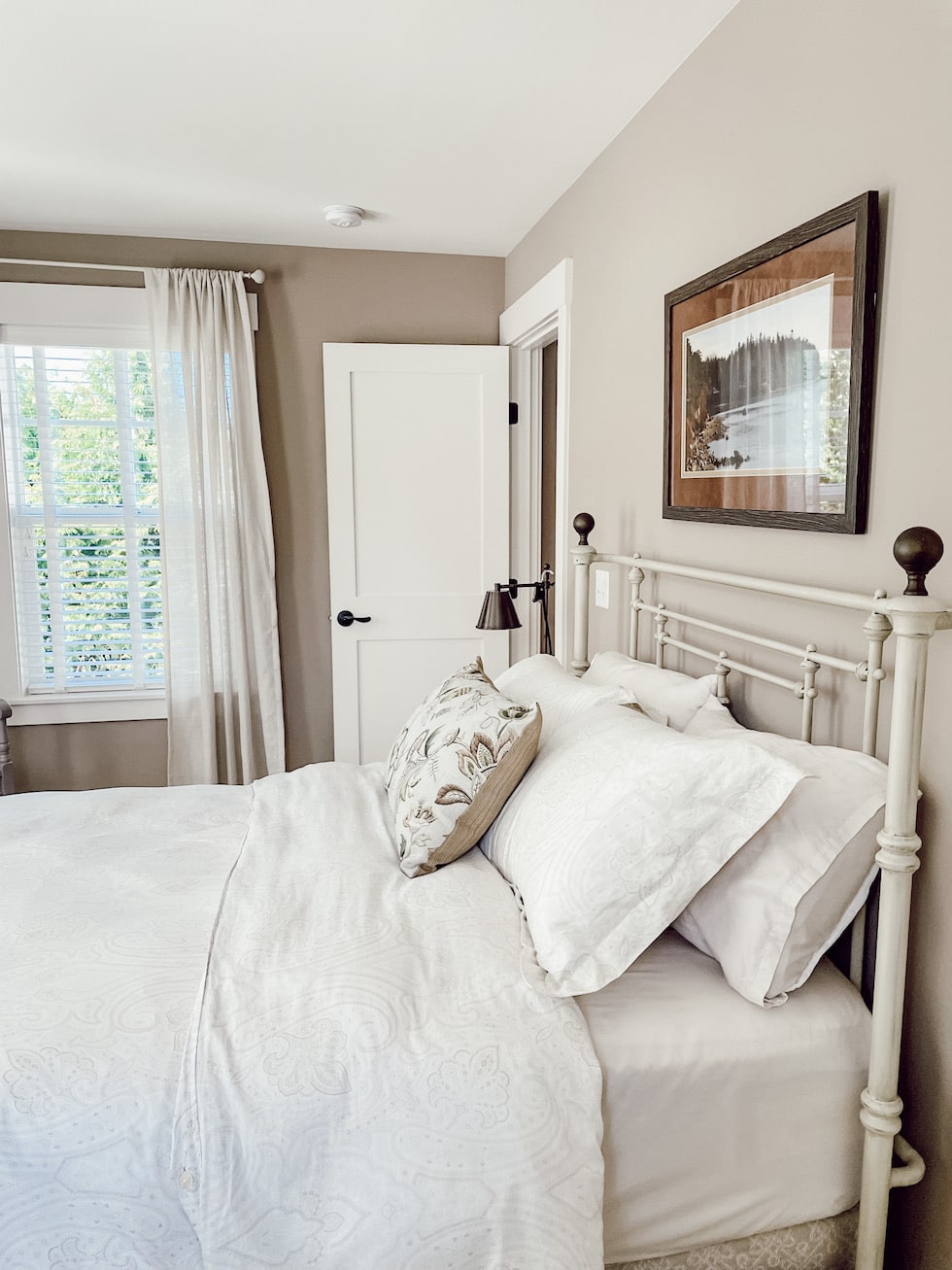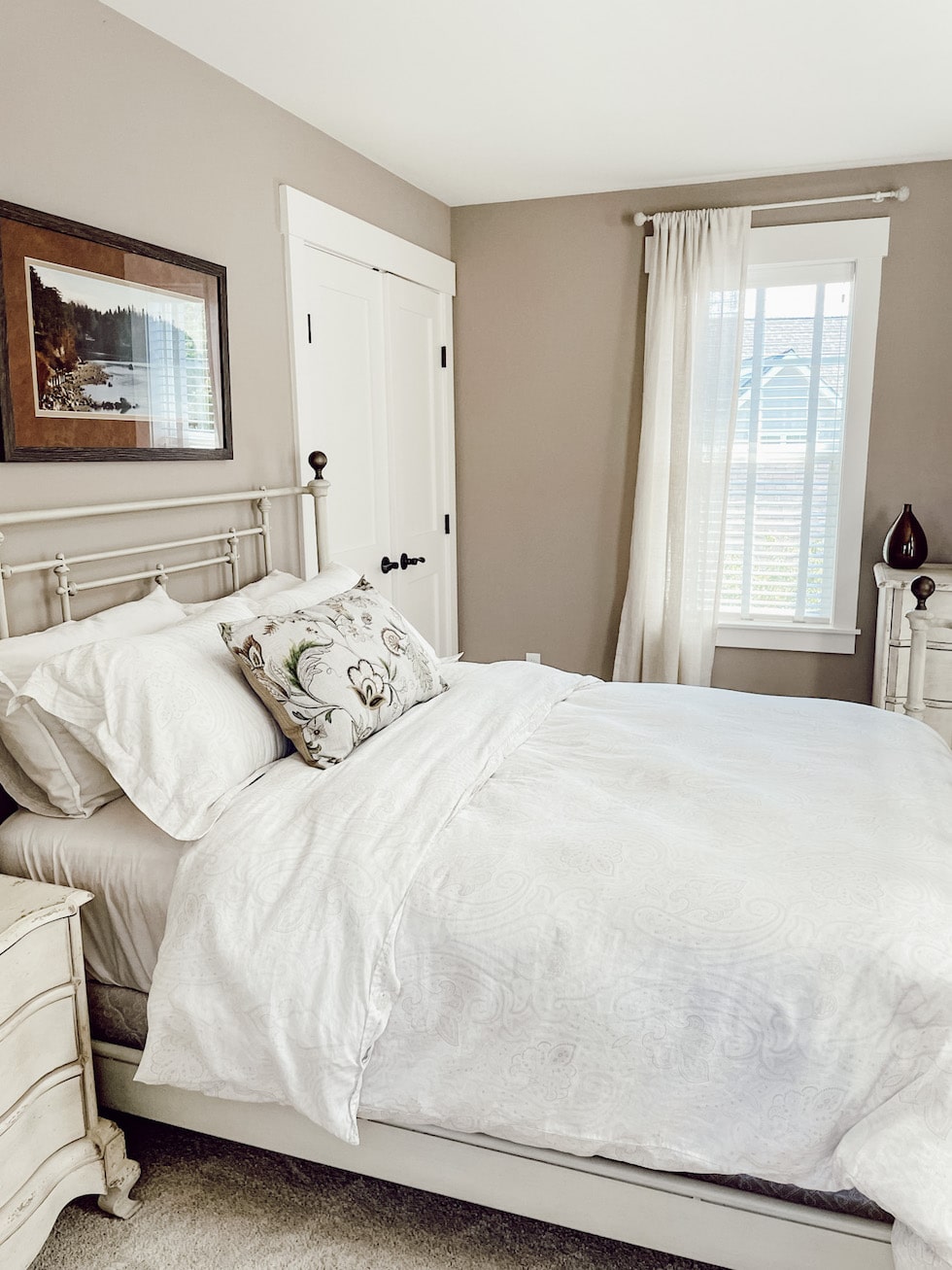 It's a great little room with light from windows on three sides and even a peek-a-boo view of the water from one window, if you turn your head just right :). Currently this is my parents' room, but they will move into their new bedroom on the main floor once it's built.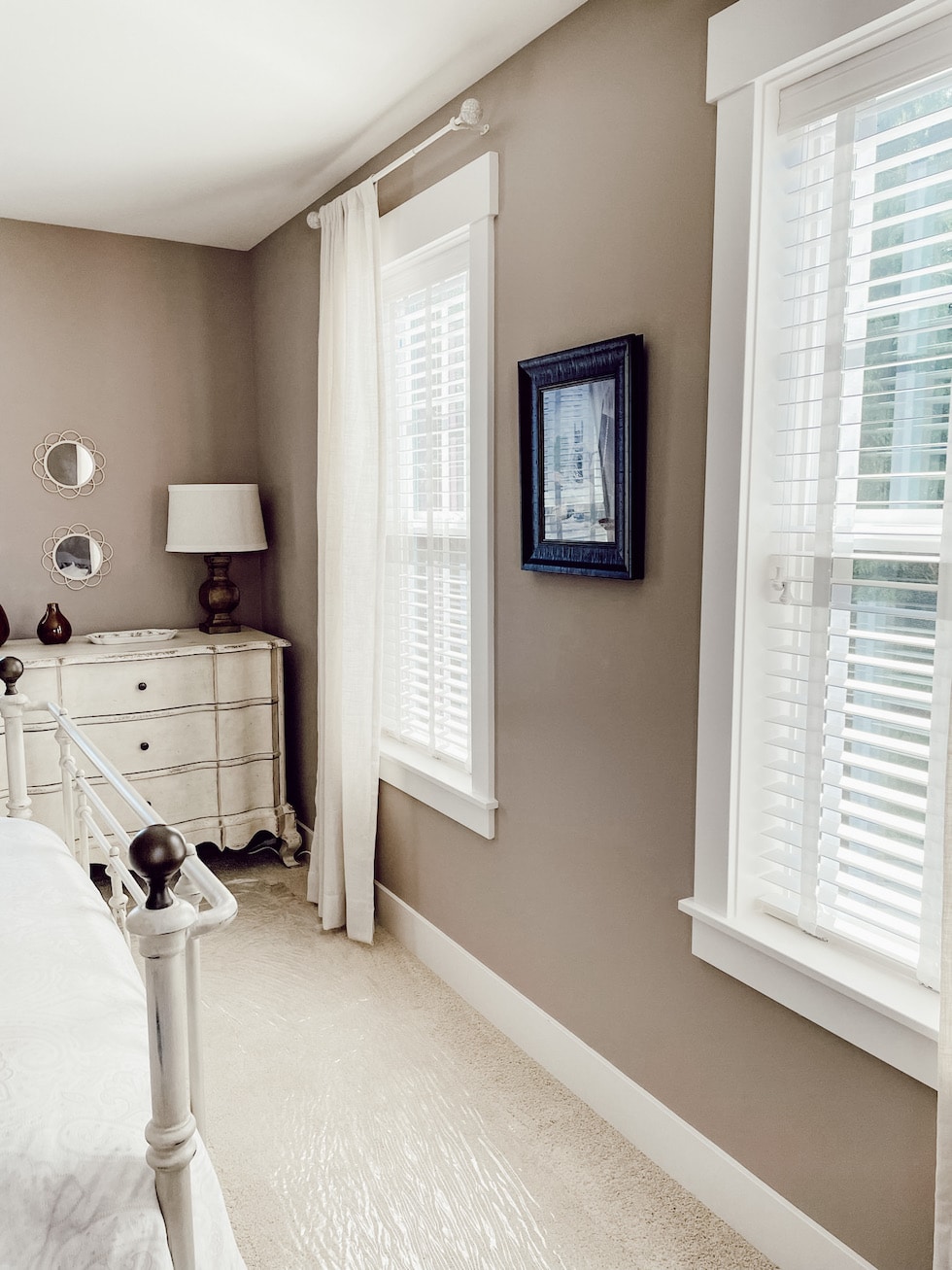 In upcoming posts I'll share more of our plans, but I shared one idea for this space in this post!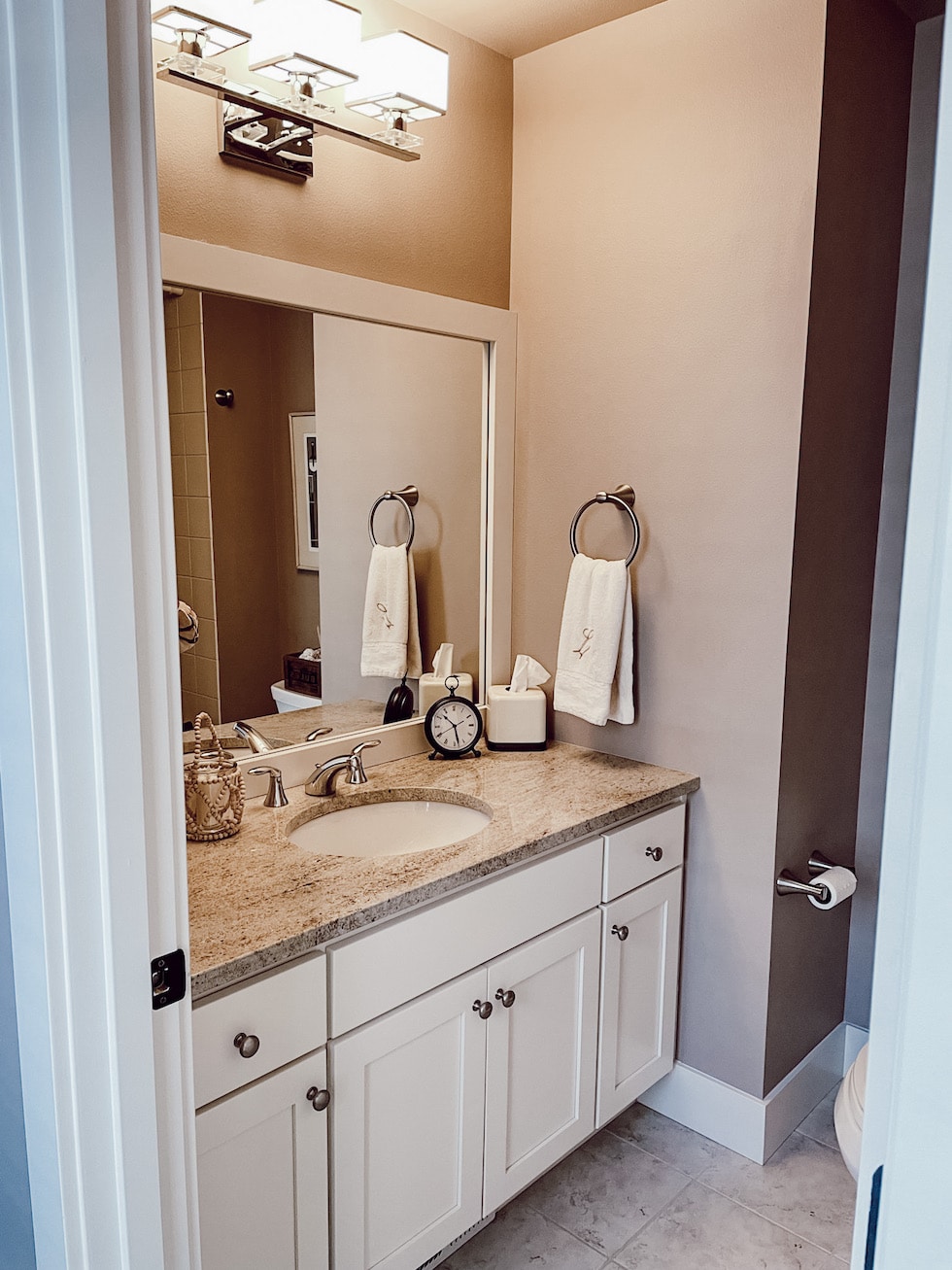 The guest bath will be fun to put our own stamp on at some future time!
Back down the hall the other way is our bedroom. The view as we walked down the hallway into the room took our breath away the first time we saw it. And every time we see it. Every day we turn to each other several times a day to say "look! there's the ferry." :). So far the view or watching ferries hasn't gotten old! I can't imagine it ever will.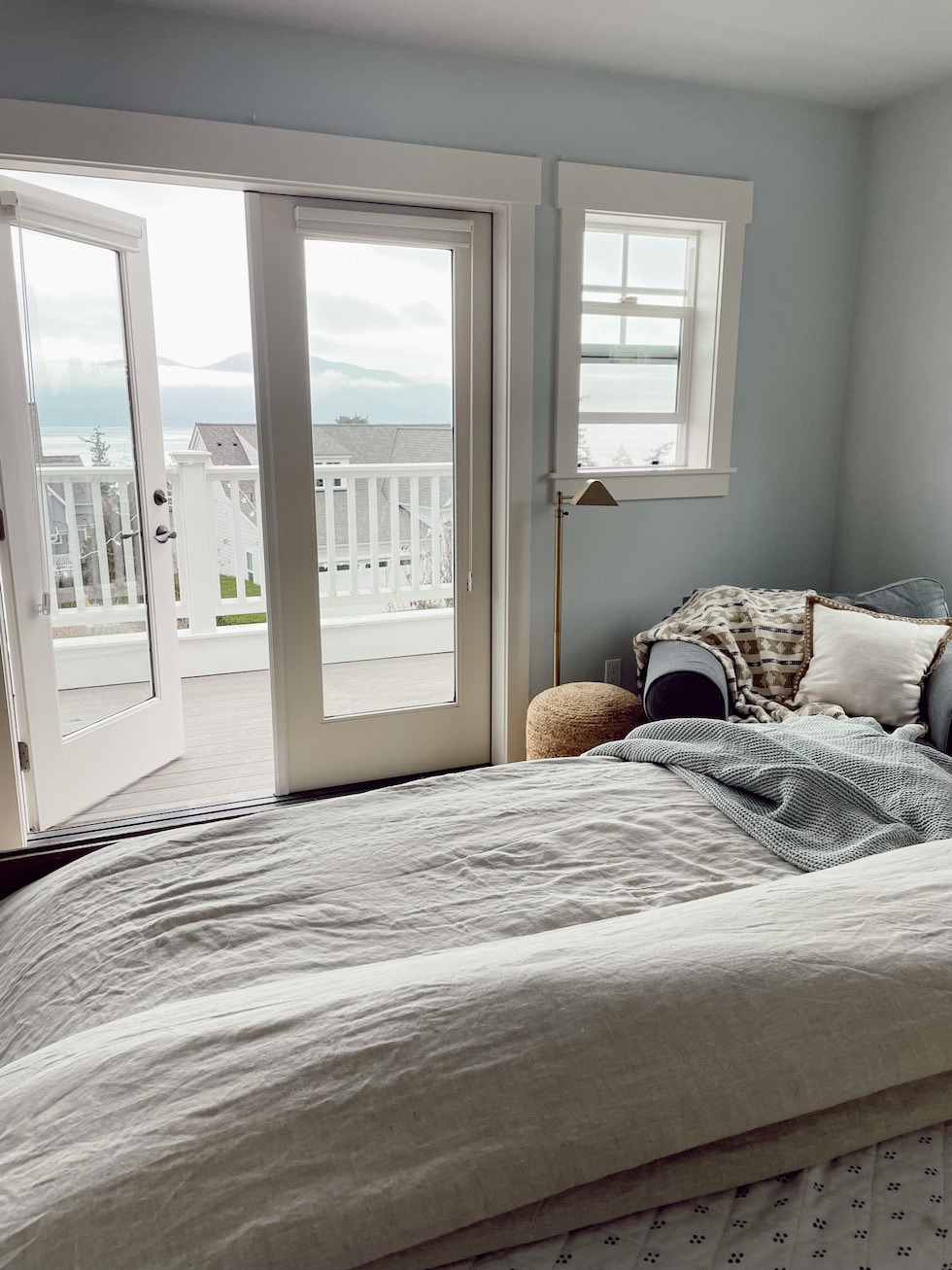 Were you following along last spring when we lived in our old house and we were dreaming of adding French doors to a new little bedroom? We described wanting nearly this exact bedroom layout with French doors so we could have more natural light and open doors out to a cozy little patio just off our bedroom. And we wanted a new little primary bathroom.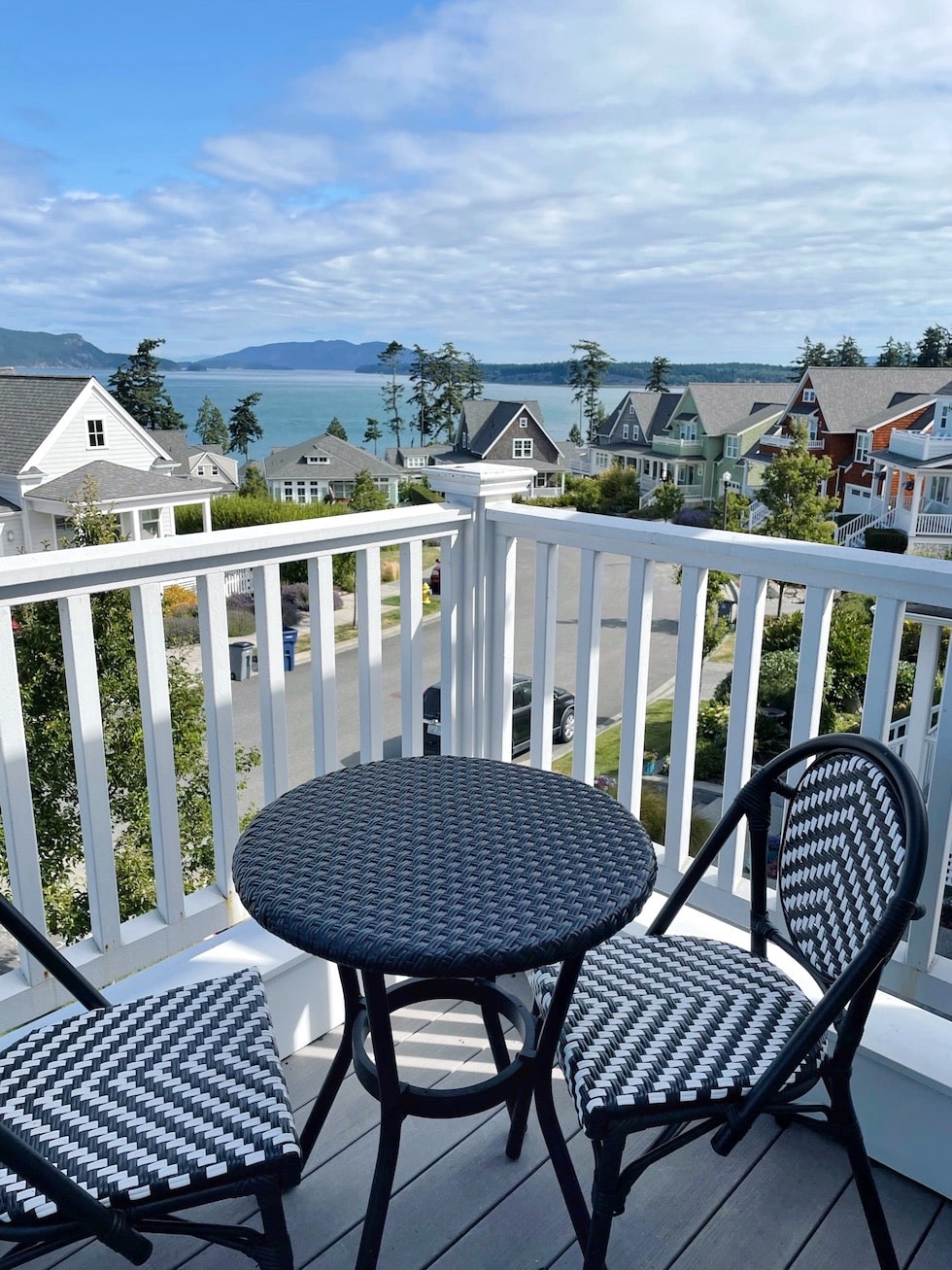 Our room in our new house literally our dream for that house coming true in this one, with an even better view that we imagined. So crazy to think about that. Dreams do come true sometimes :). So grateful!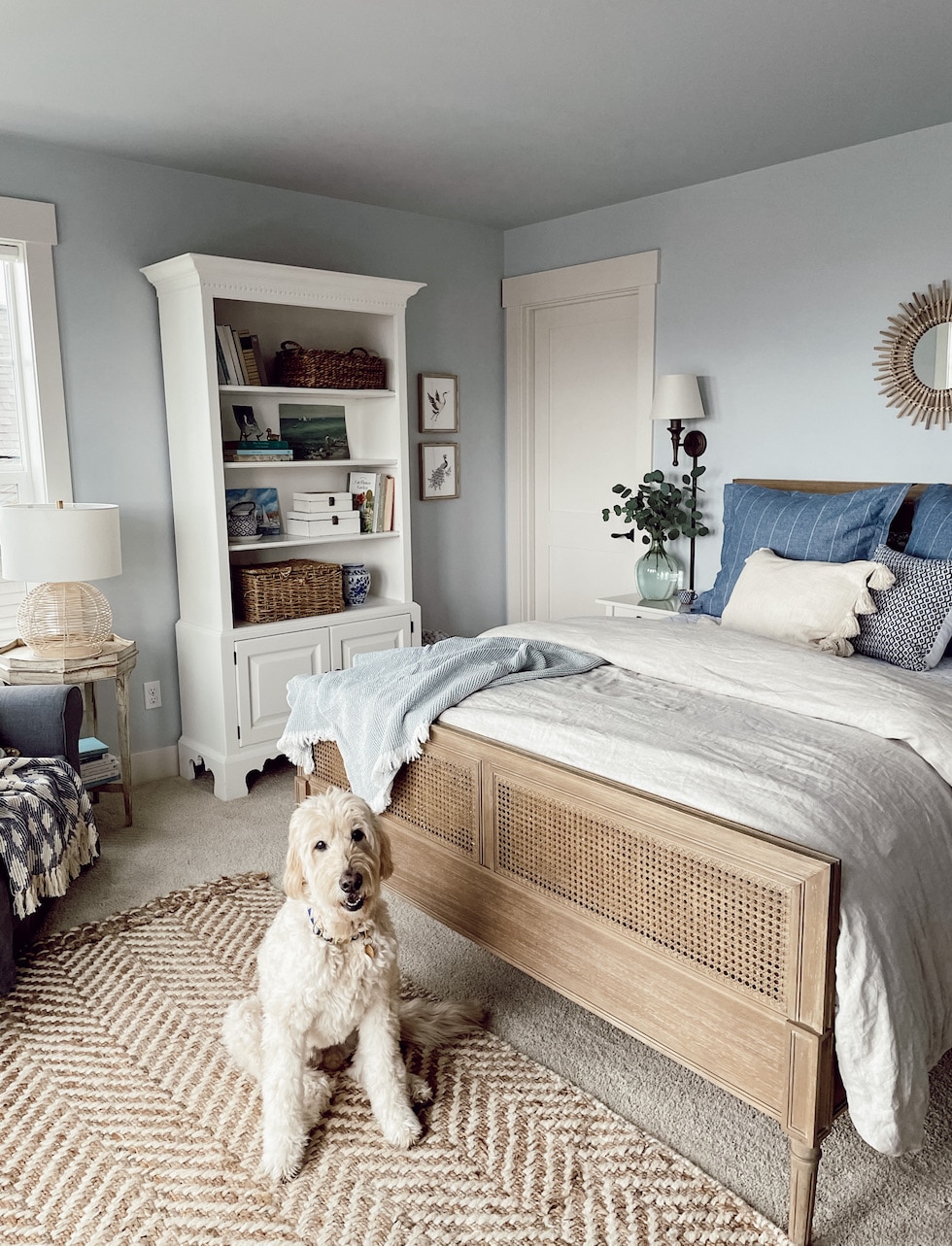 I've shared about our bedroom progress on the blog HERE.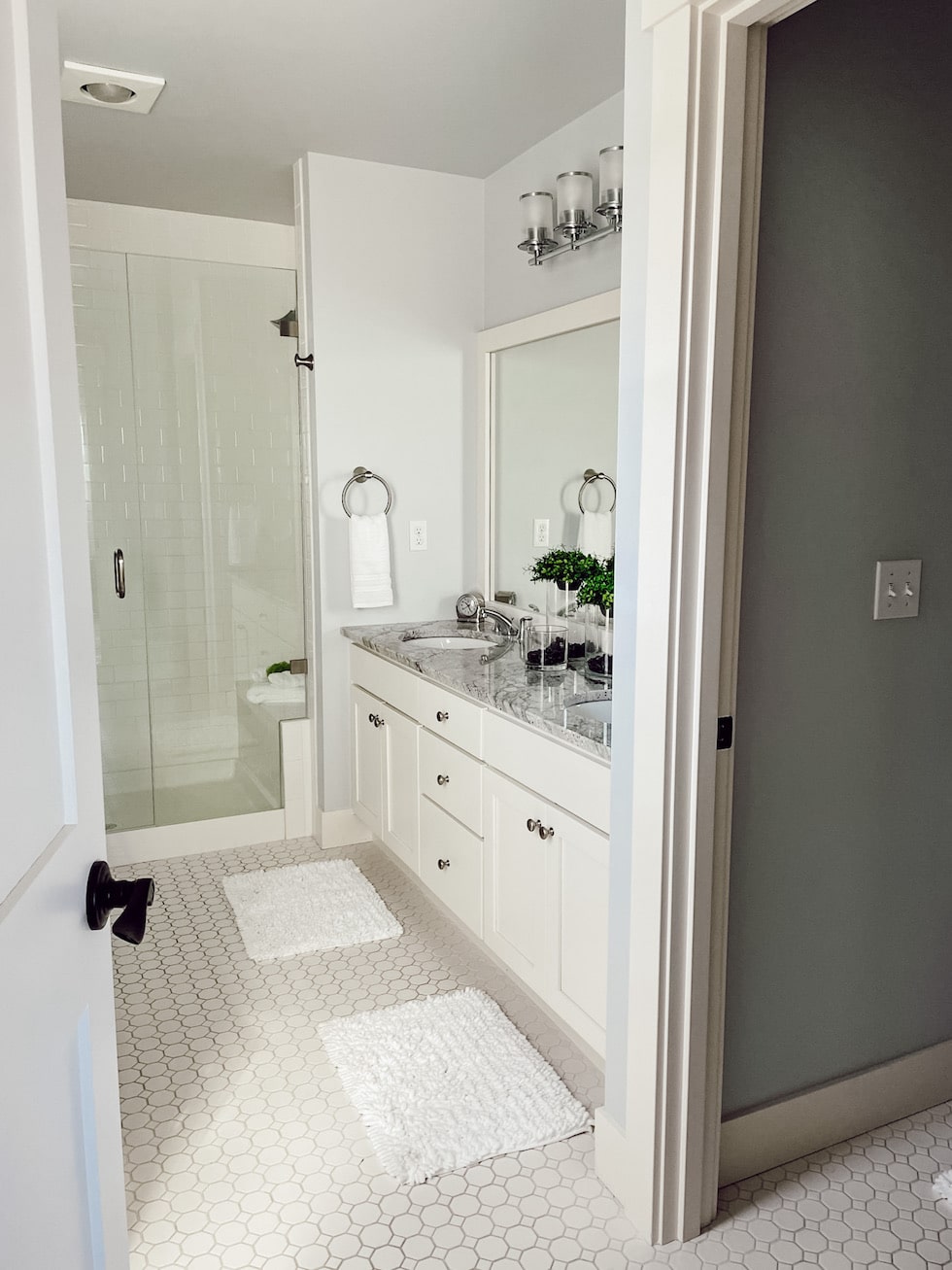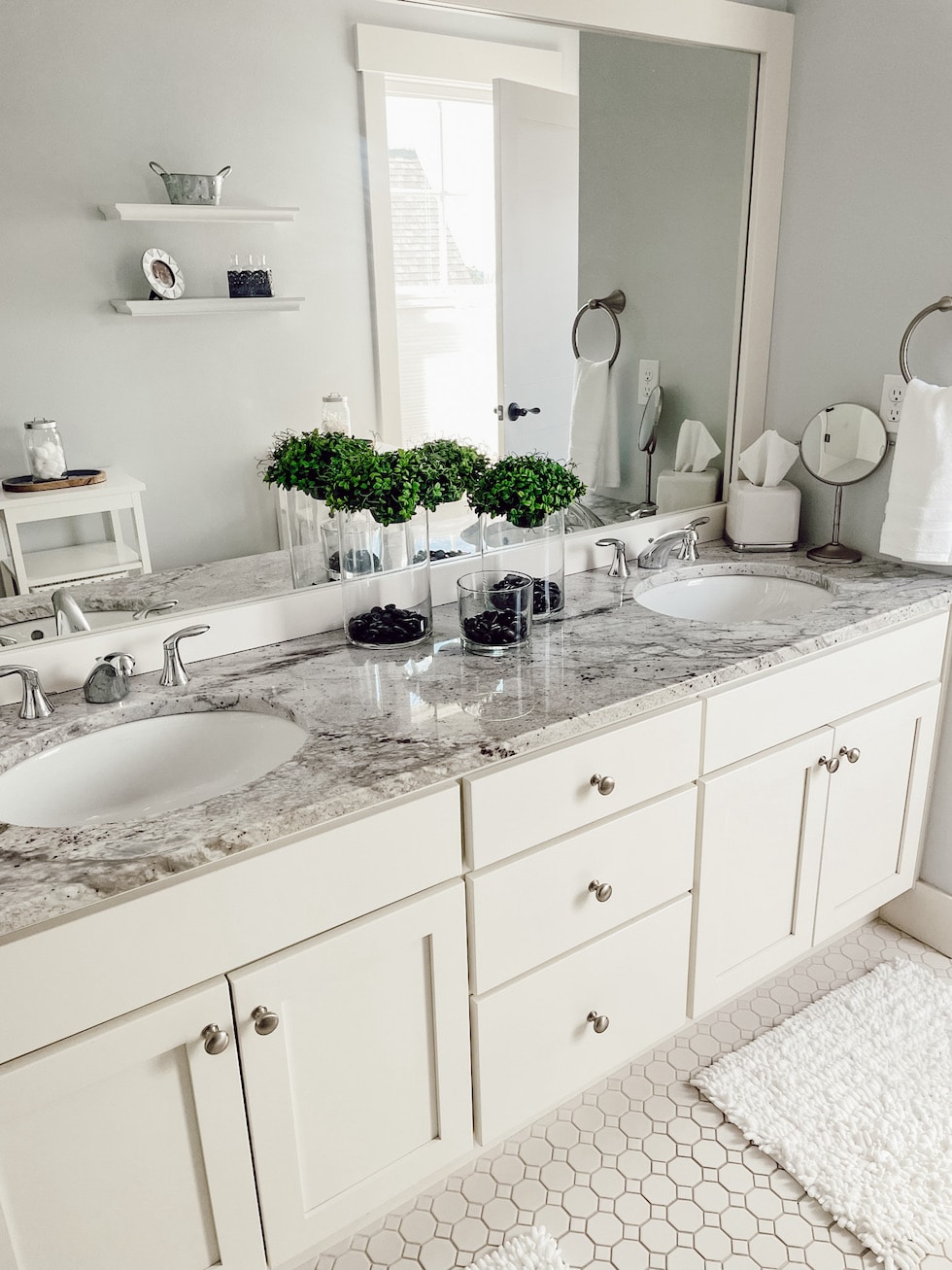 This is our bathroom! I absolutely love it and will enjoy that it still has potential to make it our own in time as well. In fact, we already put our antique black chinoiserie cabinet in it, which I think is SO charming and useful in here! You can see a bit of it a couple photos up. I'll update the photos so you can see more of the cabinet and what we use it for at some point, these last two images are from before we moved in.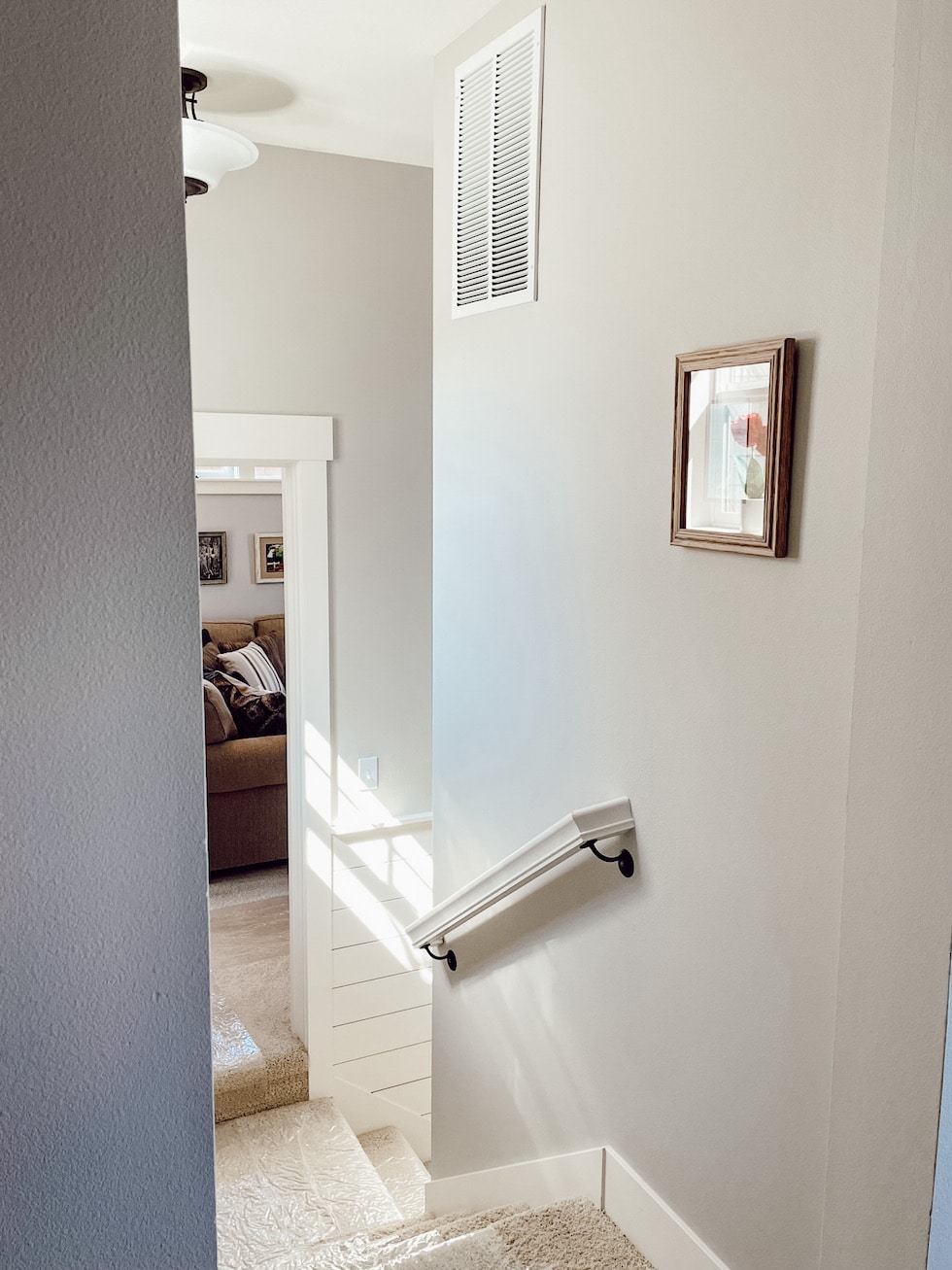 Let's head back downstairs. I really am excited about little spaces like this stairwell. Adding the hardwoods, updating the light fixtures and adding our own personal art and touches, these beach house before photos of the stair area will be fun to look back on, too!
You've seen more of the downstairs spaces but a lot of things will be changing this year so I'm going to share photos in this post so they'll all be in one spot!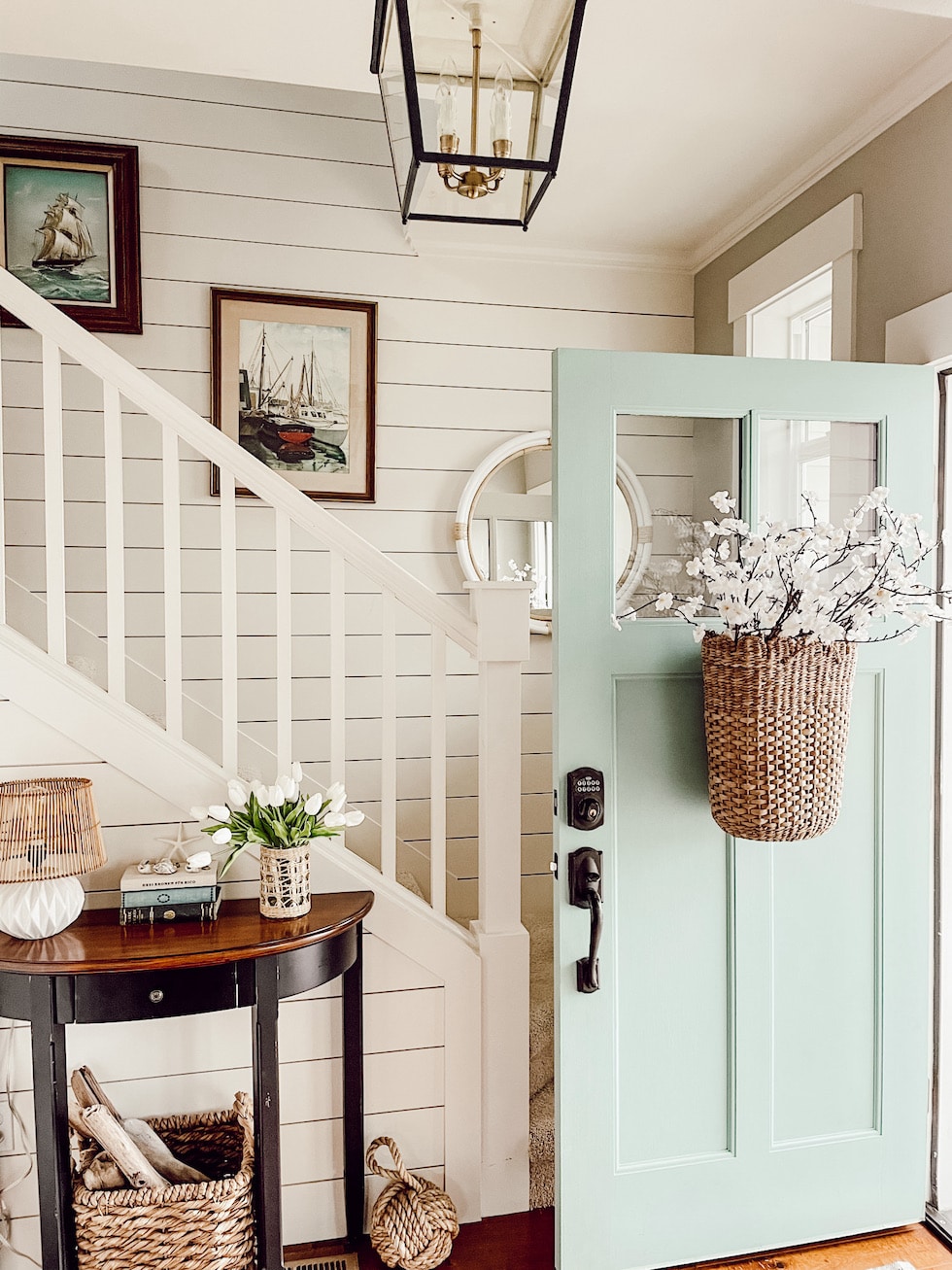 I've shared about our entry before. We changed the light fixture to this charming lantern, see details here. Door basket and paint color details are here.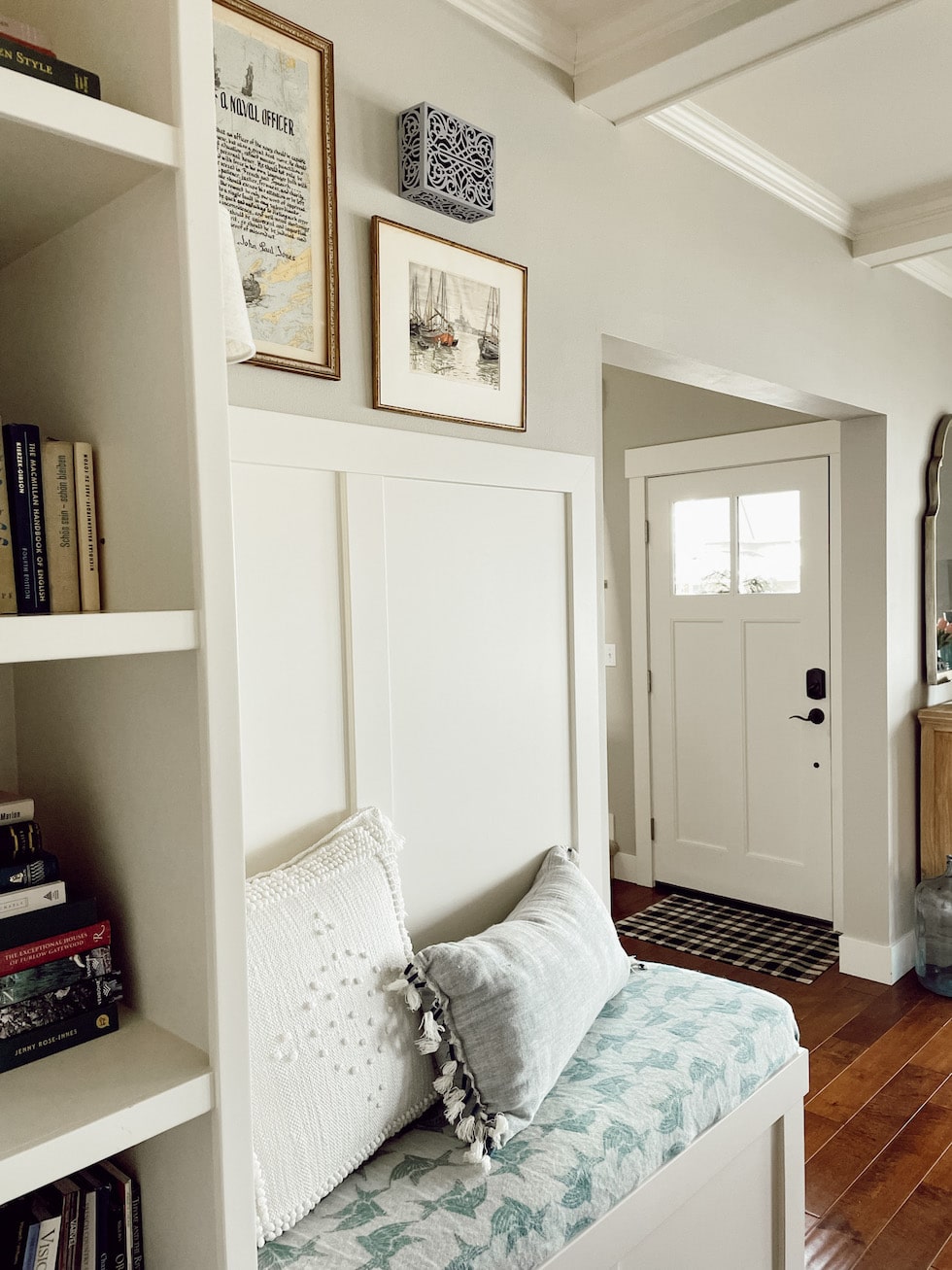 We love the built-ins and the little bench, it's a comfy perch for watching the view out front and handy extra seating and storage, too.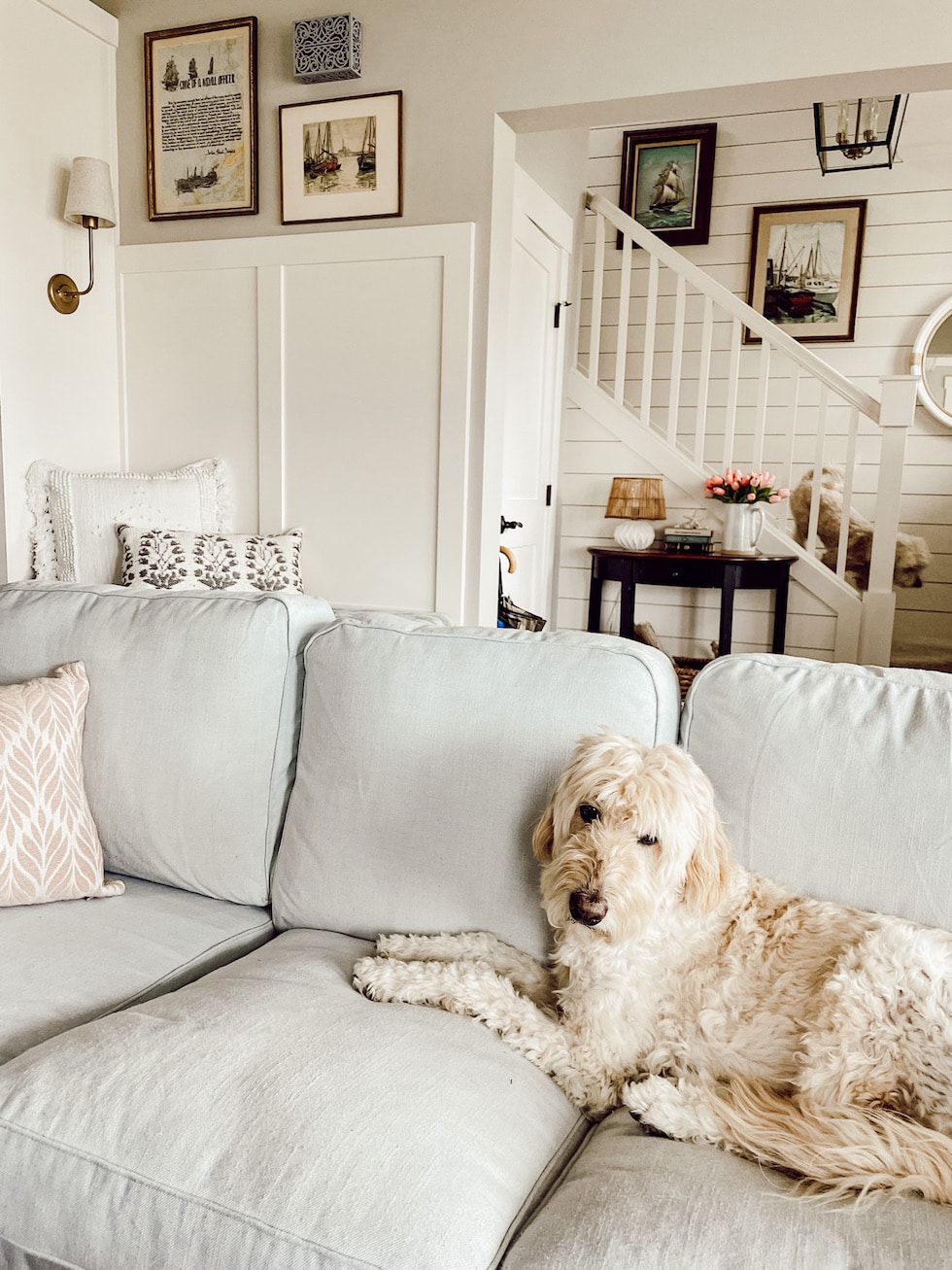 We added that brass wall sconce on the bookshelf (it's not hardwired in, see details on how we did that here!).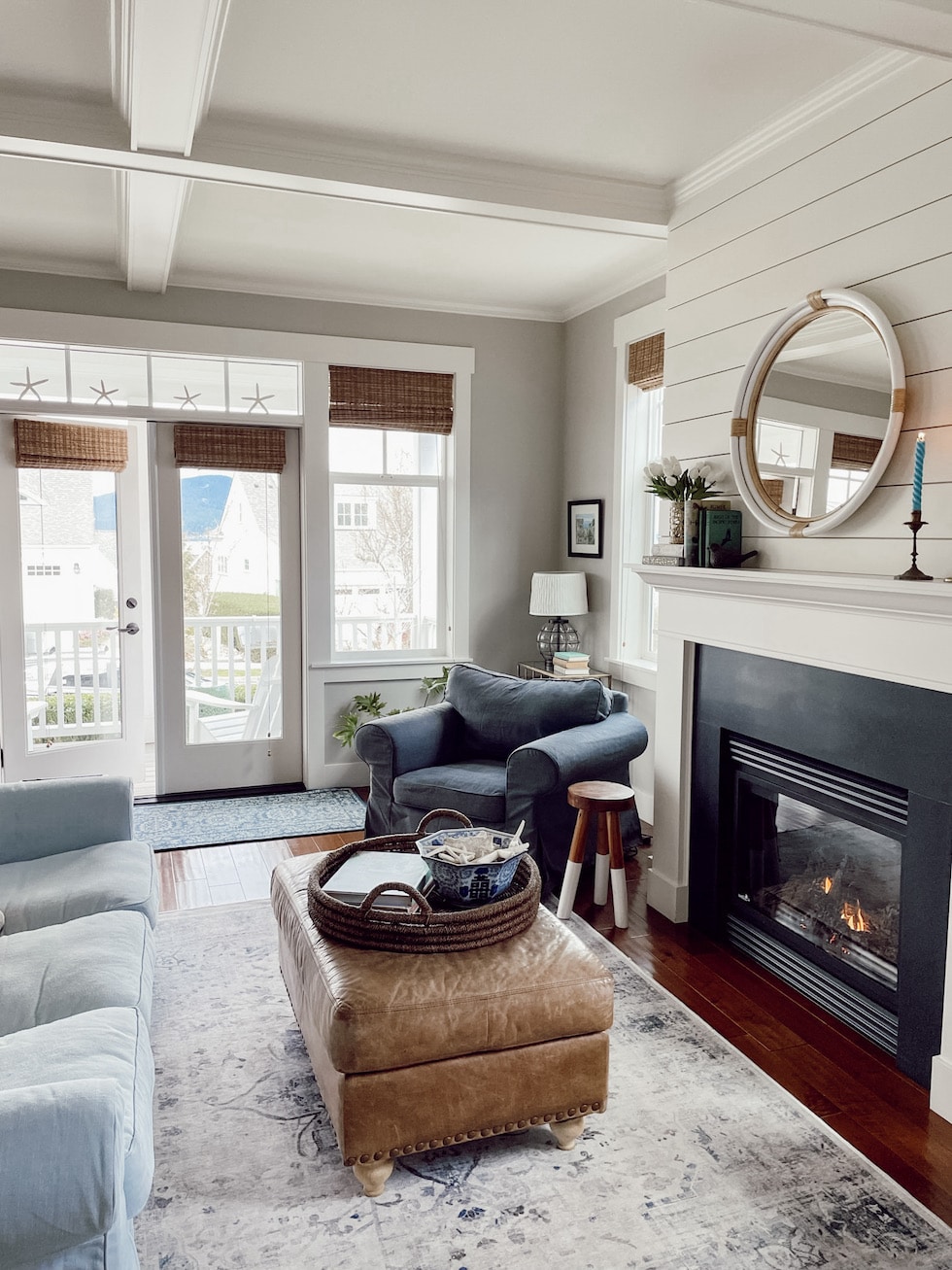 We love the beautiful ceilings and the French doors! It's so cozy and pretty in here. This room is going to get a new look once the new flooring goes in (we'll be updating all the flooring to be consistent throughout the house!).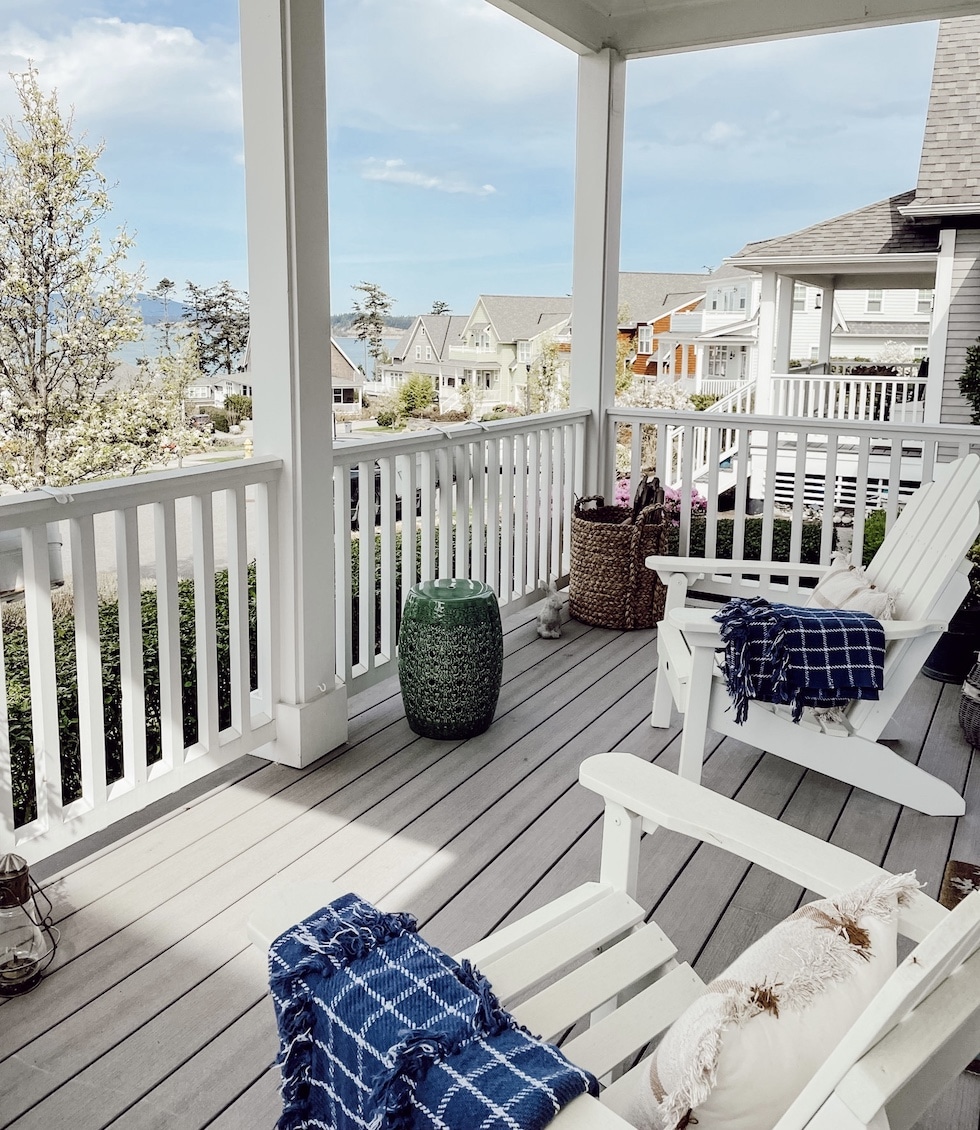 We love both of our front porches, but this one is covered so it can be enjoyed it in all kinds of weather, too! Do you remember the big snow storm we had for our first Christmas here?
We haven't done anything other than accessories in this room, so it will be fun to see it transform as we live here. Not only with the new flooring but more of our own furniture too (although we really love the blue sofa!).
This view is going to change A LOT in the coming months. It is going to be so fun to see it transform! We will be taking out the peninsulas and creating a new kitchen at the back of the house, a new dining area between the kitchen and living room and the small addition for my parents (you can read more about it all HERE.). Can you picture it?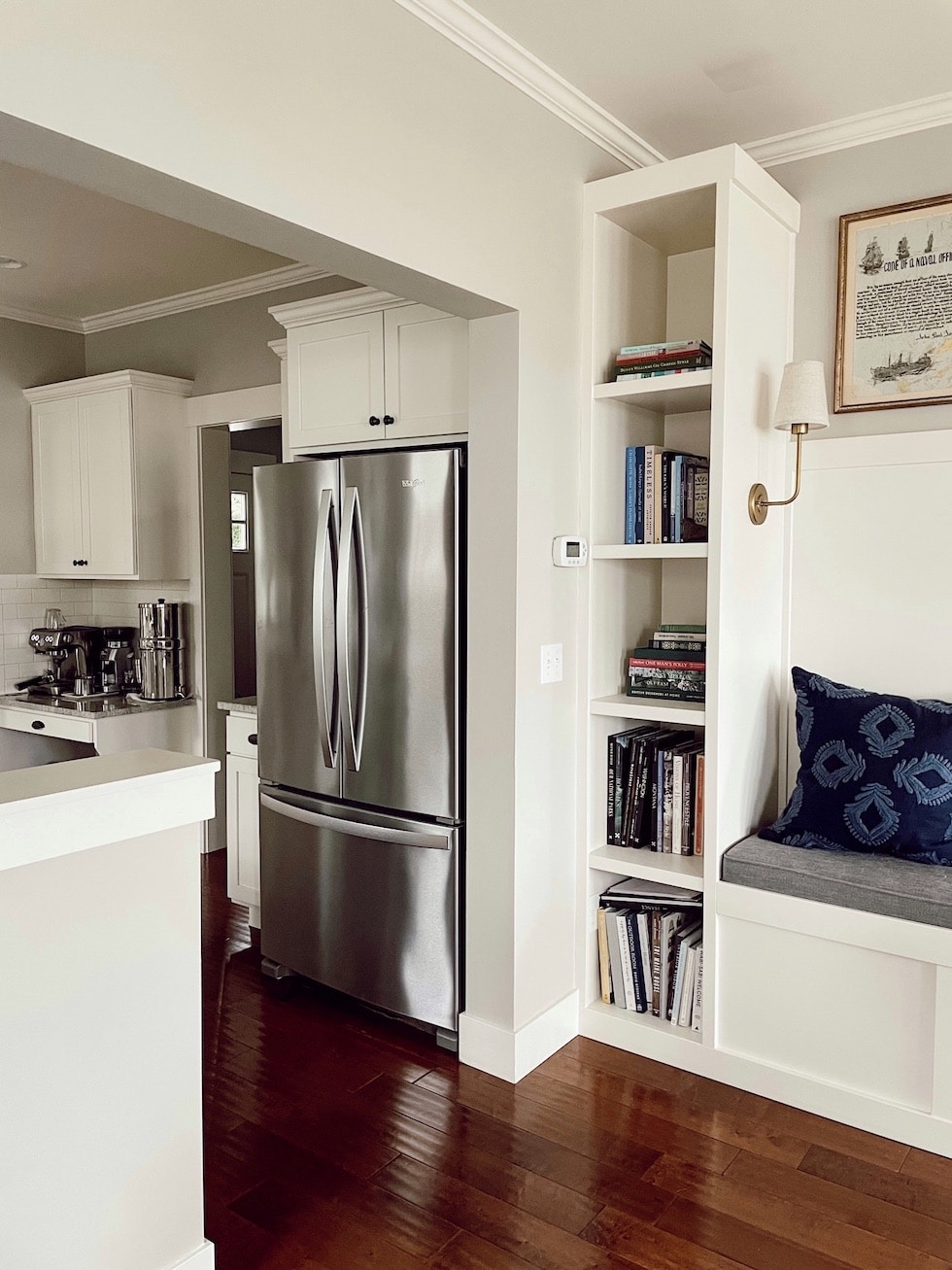 Like I said, it's a cozy house so relocating the dining room between the living room and kitchen will give us a bit more room to spread out yet still be together in adjoining spaces. That will be especially nice when we have family visiting.
The kitchen is very cute as it is, but the new kitchen will be as well! This will be the new dining room. We are hoping to add new windows along the far wall, too! We'll be able to give the existing kitchen pieces away so nothing will go to waste.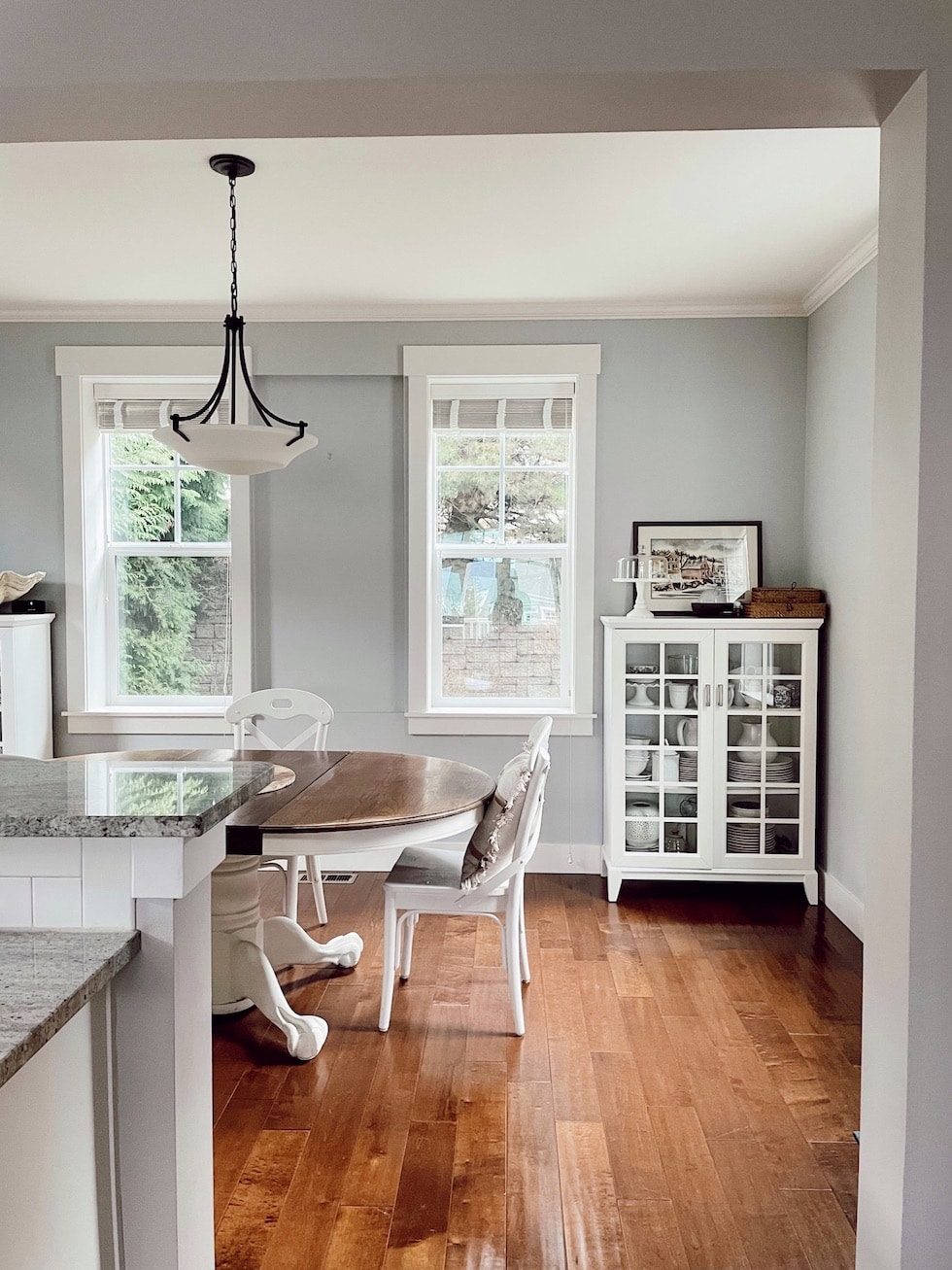 I love the dining room, but this spot is going to make a charming kitchen, too. I have so much more to share about our plans, but you can see what we've talked about doing in the kitchen and dining room so far in this post.
This little mudroom is really cute, but a few things will be changing here to accommodate the addition. We will probably use this space as a pantry but also as more space for dishes, etc.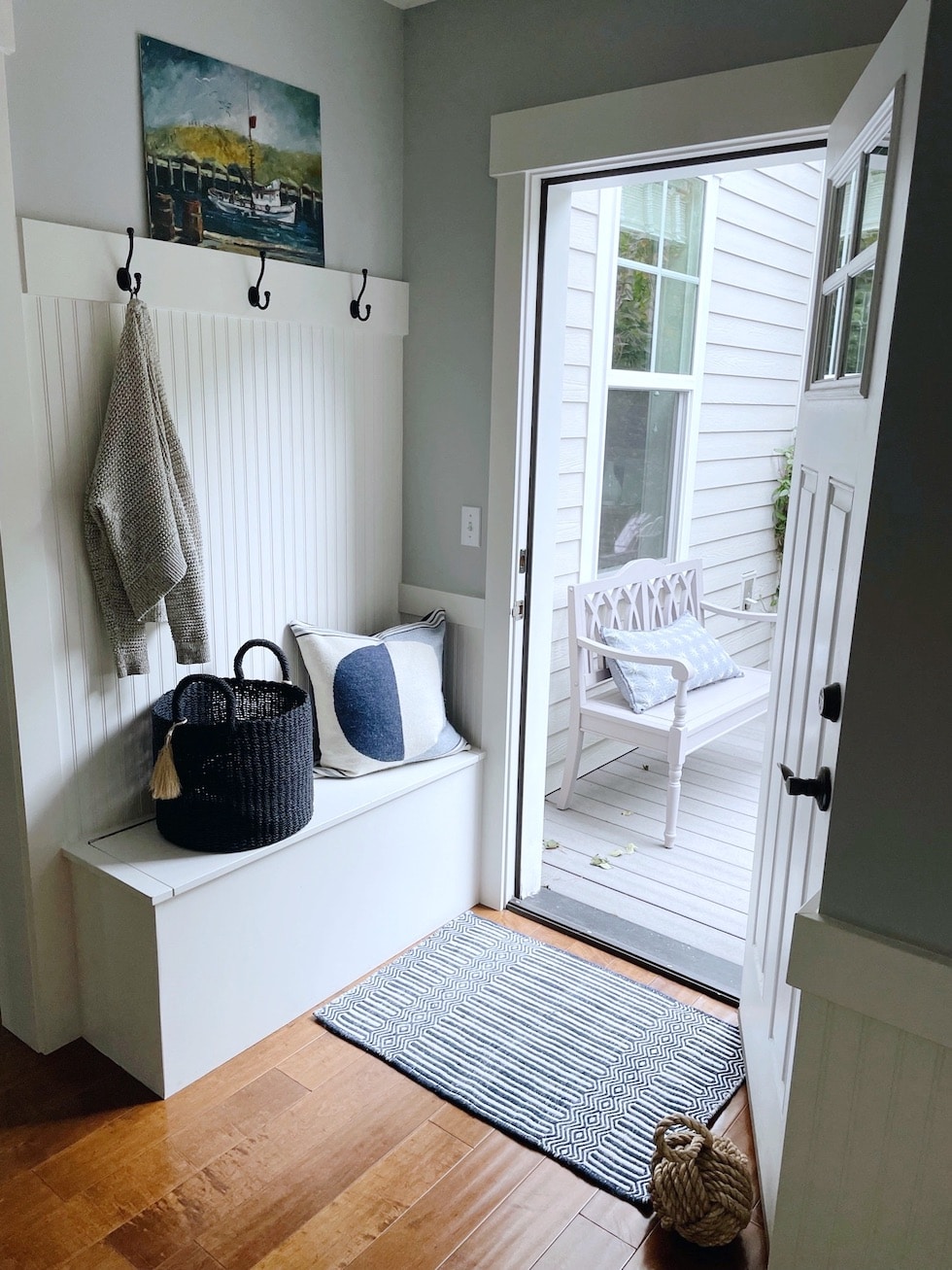 I couldn't be happier to have a sweet little powder room! The adorable whale wallpaper was here. It felt like a sign that we were HOME!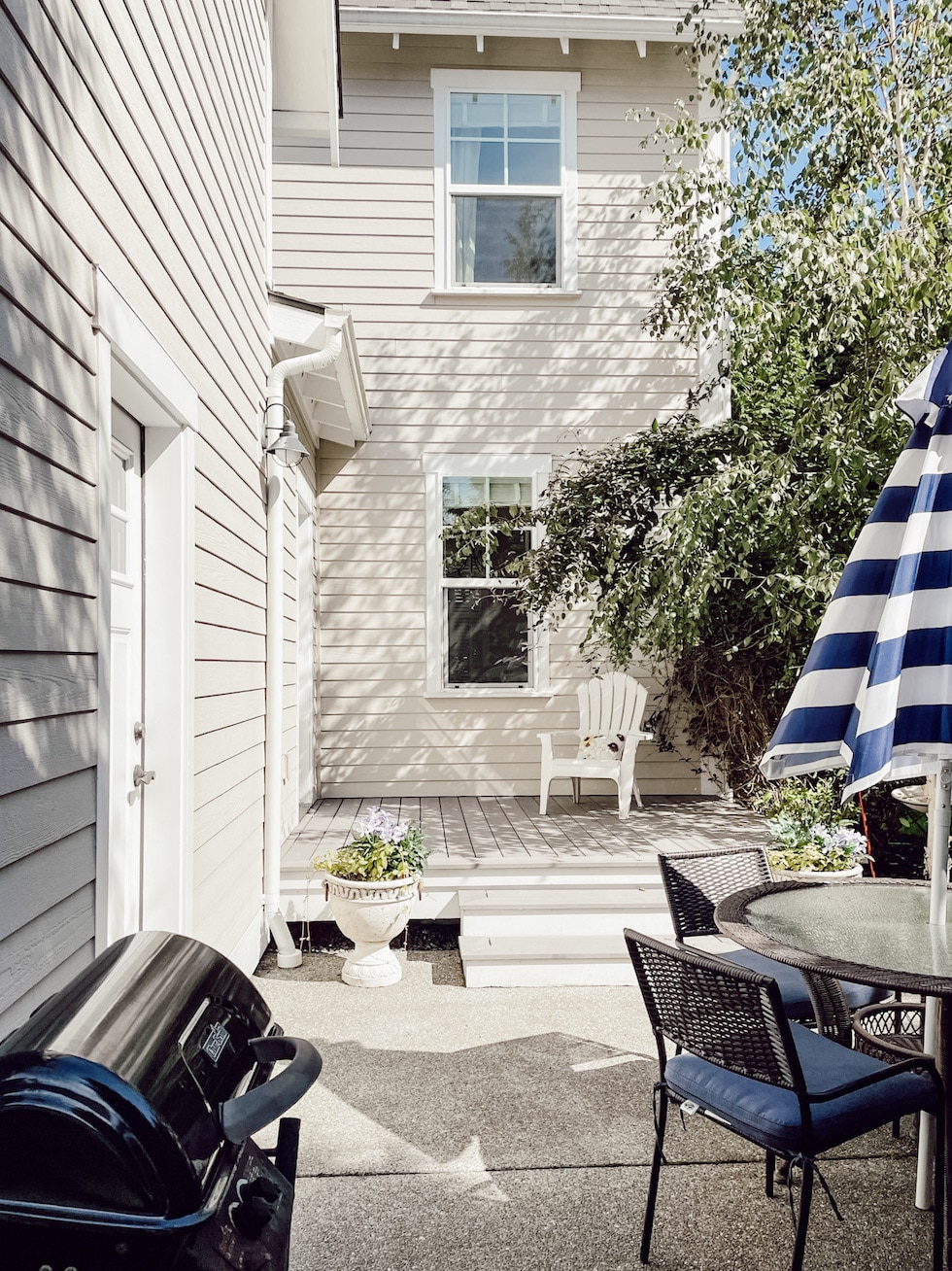 Quick look outside! We love the backyard as well as the back of the house. It will all change a bit with the addition, but we are looking forward to how extra charming it will be back here with the new room, windows and French doors, too. Can't wait to show you our plans and take you along with us as we do the addition and remodel! Plus, lots of gardening ideas, fences, gates and more!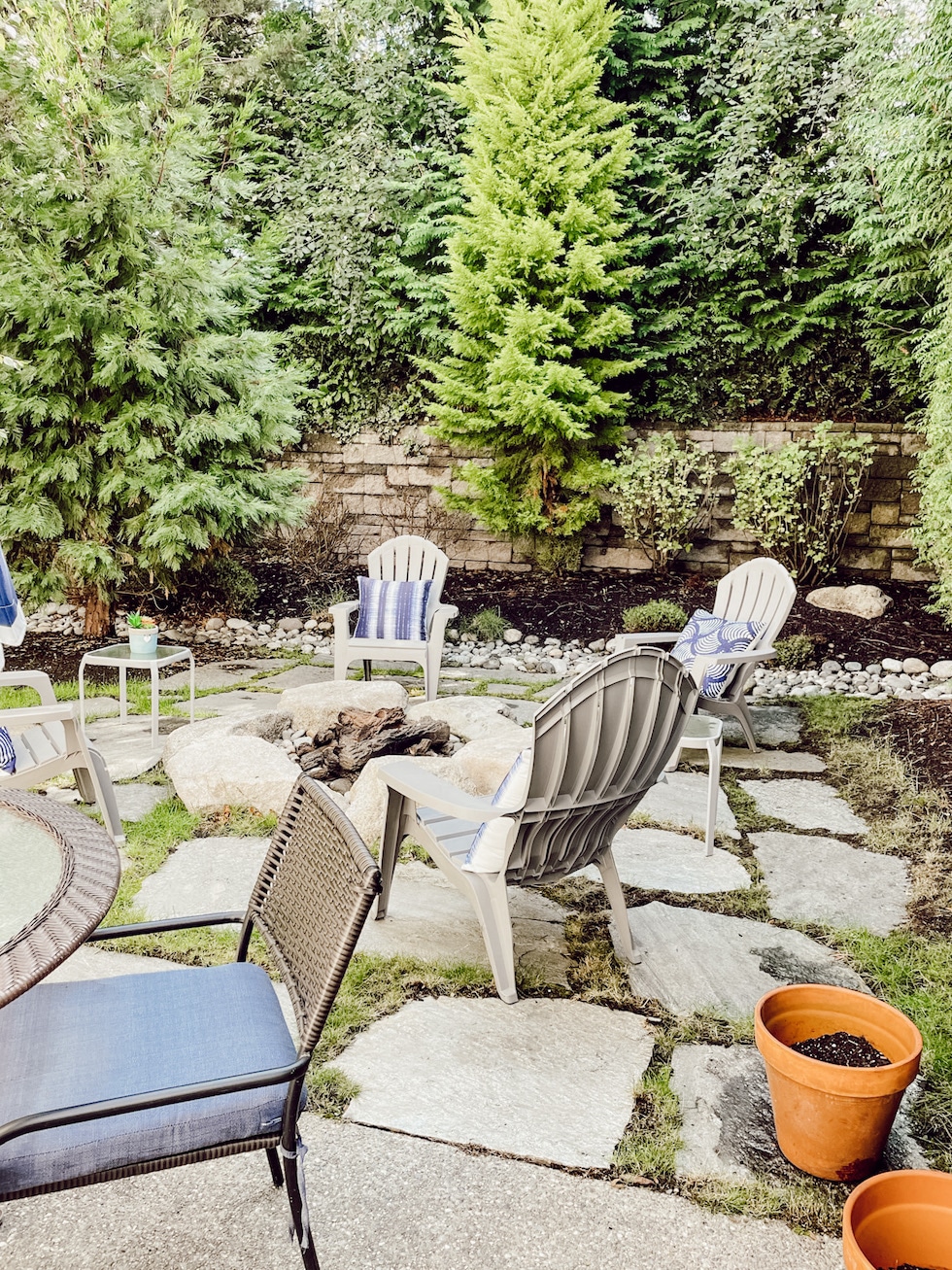 Thanks for following along on this journey to our "forever home." We feel so grateful to have found this little house! You can read more about our first six months here and why this home is so special to us in my Six Months in the New Beach House post!