It's so hard to be objective with your own house renovation project. I'm trying to choose a new floor tile and need your help!
The photos you recently saw of our new house were the real estate photos that were taken and reused from four years ago. 
This overgrown menagerie of trees jammed up way too close to the house and blocking the pretty design, is what it looks like now (below).
We do like the weeping willow tree on the right of the drive, but it also needs a trim.
We've had a long heat wave in the lower mainland this year so there are a lot of dead shrubs everywhere. It's sad truly. 
This Christmas tree will also be removed and the house will be painted next Spring. Since I have to work with the existing exterior stone, it will be a complex cream.
The backsplash in this kitchen is Calcutta Gold and it's beautiful. In fact, the only thing I'm changing in the kitchen is the pendant lighting and the island will be painted a colour.
The sunroom is to the right of the kitchen (below) and it currently has 12″ x 24″ green grey tile installed. It's coming out.
But here's where I need your opinion. 
Which floor tile?
The fixed white in this house that's staying is the backsplash in the kitchen (remember, Calcutta Gold marble). Therefore, all decisions on whites are made around this tile.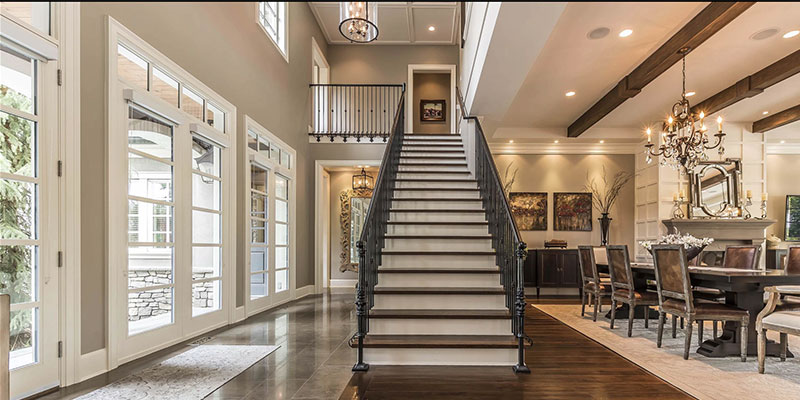 The entry is filled with 12″ x 24″ taupe tile extends down a small hallway to the powder room. It's all coming out too.
My hardwood is hand scraped solid oak in a medium brown shade. So, this happily checks the box of a timeless floor, hooray!
However, what I wanted to do, was install herringbone wood floor in this hallway, but this flooring is 11 years old and it has a sheen. This is something that we were doing in the Tuscan trend but we're not doing it now.
Even if I sanded down the entire floor, there's still no guarantees that the new floor would match the old one.
But that would have been beautiful (see below).
Our wood flooring expert explained that North American oak tends to go more pink/orange, while oak from Europe is more gold/green. 
This is the reason why there will never be a colour wheel for wood stains (I'm only saying this because people are asking). Not only does every species take a stain differently but there are many ways to apply the stain. And each technique is also going to affect the way it looks.
He said it's like wine, depending on where your wine comes from, the dirt changes the taste of the wine. It's the same with wood.
So here's what I'm thinking of doing now.
The panelling you see below the staircase will also be extended up on this wall beside the staircase (above and below).
We are drywalling over these fake windows, which immediately turn the entertainment room upstairs into a noise producer that would disturb everyone downstairs. I really don't understand this extreme open concept world.
Okay so here are my options now: 
I think my 6′ x 20′ entry hall is perfect for this kind of checkerboard tile installation (below). But in brown and calcutta marble.
My brown staircase is staying. It's not my first choice but I can definitely live with it. And we have a big list of other updates that take precedence over getting a new railing. So that's why I'm going with brown (dark or maybe light Emperado marble) and white Calcutta gold tile, rather than black and white.
Image via William Hefner
I also like this look of smaller tiles in between the larger square tiles. Whatever we end up with will also have to do with availability.
Artsiacs
Nord Architecture
Or, one more option would be to cut the 12″ x 24″ Calcutta tile we've found and insert it in a herringbone style. 
HGTV
Decorpad
Well my lovelies? What do you think? It's hard to be as objective with my own house! The renovation starts Thursday this week so if you want to watch it as it happens, follow me on Instagram here.
If you'd like help choosing the right colours for your  New Build, Kitchen, Bathroom or Renovation, check out my eDesign packages here.
If you're in the US it's not too late to jump into my Virtual Specify Colour with Confidence workshop next weekend (we will ship out your box of materials ASAP). 
Happy Thanksgiving to my fellow Canadians! (Too late for you to jump in this weekend because of the holiday but we still have one more workshop in November 10 & 11, here) 
Related posts:
Maria Killam's House Tour; Here are All the Before & Afters
Ask Maria: What's the Best Floor Tile for my Small Entry?
Is your Black Accent Tile Perfect? Or Perfectly Nice